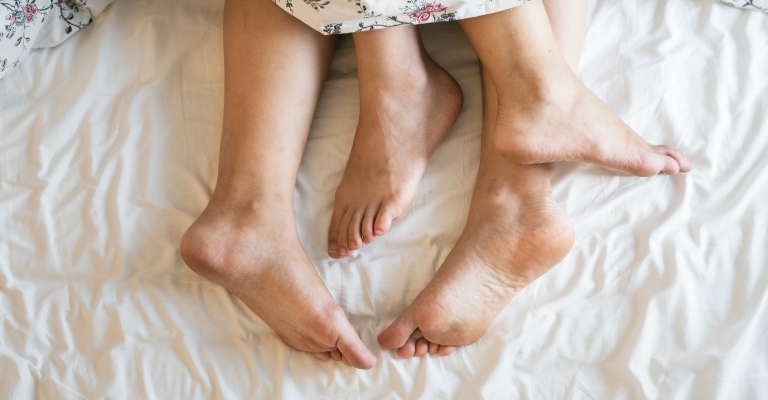 How you remember the days. Horizontal hula, knocking boots–whatever you called it, you couldn't get enough.
He was so hot.
Before bed (or any time of day), you donned your lingerie or even hopped in the sack in your birthday suit.
Now you're scratching your head and asking yourself,  "Why don't I ever want to have sex?"
He's still sexy, but now at the end of the day you barely have energy to put on your raggedy plaid pajama bottoms and crawl into bed.
And when you do, shaking the sheets is the last thing on your mind.
The fact that your belly and boobs are stretched out of shape from birthing and nursing babies or you've worked all day or you're just plain exhausted doesn't diminish his desire for you.
When he comes to bed ready to get busy, you get annoyed.
Seriously? Haven't we met our quota for the month?
Is he clueless? What about raggedy pajama bottoms, messy bun and a ratty t-shirt screams, "I want you, Baby"?
The kids are in bed, the dishes are done, the toys are picked up (sort of) and you just want some down time without anyone rubbing, squeezing or sucking any part of your body.
The tension between the two of you is growing.
You stuff your feelings of guilt, but silently beat yourself up, "Why don't I ever want to have sex anymore?"
Here's the good news: You're not alone.
There's no shortage of women who aren't interested in having sex with their husbands.
Sex is a vital part of marriage. You know that. What you might not know is the way you feel is more common than you'd think.
According to an article in the Journal of American Medical Association, an estimated 24 million American women aren't interested in sex.
That's a lot of "not tonight, honeys."
You love your man, even find him attractive. You don't understand why you don't want to have sex with him.
Your lack of desire may have nothing to do with him. And your love for him has nothing to do with your non-existent libido.
Here's the best news: Your lack of drive could be do to any number of reasons, but it doesn't have to stay that way.
Here are 7 reasons why you might not be in the mood and how to fix it:
1. The strain of everyday life
You're tired and stressed. Your responsibilities are overwhelming. If you stay home, your kids are hanging on you all day. If you're a new mother, you're probably sleep deprived. If you work outside the home, chances are you still shoulder most of the responsibility for taking care of the house and kids. You're exhausted and overwhelmed. And it has an affect on your (or your lack of) sex drive.
How to fix it
Evaluate your schedule, and cut back on activities. Saying no and delegating responsibilities to your husband and kids are ways to free up time. Allowing people to help you and taking time to relax may revive your lifeless libido.
2. You're feeling blue
Women are more likely than men to feel blue because of hormonal changes–pre-menstrual, post menstrual, during menstrual, peri-menopause, menopause. Life events can get you down. too. A disagreement  with a co-worker or neighbor. Clinical depression can hit your sex drive hard. It affects all areas of you life. A low sex drive could be a sign of depression.
How to fix it
Talk to your husband about how you're feeling. Then take steps to guard your mental health. Stay off social media. Studies have shown people who spend more time on social media tend to be more depressed. People compare their hum drum lives to everyone else's highlights, which are posted online.  Tell your doctor about your symptoms. You may need medication or counseling to help you get through a rough spot.  Nature and sex are natural mood boosters.
3. A medical or medication issue
If you're really never in the mood, the culprit might be an underlying medical condition. An under active thyroid, birth control pills, hormone levels, menopause, and several female medical conditions, which can cause pain during sex, all chip away at libido.
While the medication your doc gives you may alleviate the symptoms, it can put a lid on your  libido, if you know what I'm saying. Those medications can keep you from going where you want to go during a sexual encounter. Some of the newer antidepressants and some blood pressure meds can make it difficult to reach orgasm, which will slow your sex drive to a crawl.
How to fix it
In the case of antidepressants, sometimes the solution can be as simple as adjusting your dose. Never stop or tweak  medication without consulting your doctor. Make love even when you don't feel like it. Studies show sex improves mood and reduces depression. If you experience pain during sex, talk to your doctor. In some cases, the solution may be as simple as a lubricant.
4. You don't feel sexy
After pregnancy and nursing, the last thing you want to do is get naked. You feel blah about your body and are not eager to model it for your husband. Not wanting to get naked is definitely a hindrance to sex.
How to fix it
Sexy is a frame of mind. Don't let others define sexy for you. As far as your husband is concerned, you are the definition of sexy. Start preparing yourself early in the day. Relax in the bathtub. Buy a piece of lingerie that makes you feel good. If you're uncomfortable making love with the lights on, light a candle or leave the TV on and mute it. Then you'll be a sexy silhouette.
5. He hurt your feelings
That brief encounter earlier in the day might not be on his mind anymore, but it's still fresh in your mind.  Sex is as much emotional as it is physical for women. If you're angry or resentful, you won't feel like sex.
How to fix it
Avoid allowing issues to go unresolved. If there's an issue between you and your husband, let him know and try to talk through it. Also ask yourself, did he really mean to offend me? Can you look at the situation from another point of view and assume the best? So when bedtime comes, nothing's standing between you and your libido.
6. Your past is affecting your present
Because sex has a huge emotional component for women, past hurts and hang ups can create inhibitions and interfere with your desire to have sex. Past trauma such as rape, abuse and even infidelity can leave you with low-self esteem or a feeling like you don't measure up. Even parents or church can play a role in attitudes towards sex. If you were told "good girls don't" or made to believe sex is dirty or wrong, you may have a trouble enjoying sex in its intended context.
How to fix it
Pray then read what God says about sex. He is for it. He created it. Read Song of Solomon. Sex between a husband and wife pleases God.  Some say it's an act of worship. Try to identify what you are feeling and what is causing your inhibition. Talk to your husband. Seek professional help, if necessary.
7. He's no good in the sack
Let's be honest. He may not be a natural at knowing how to please you. After numerous sexual encounters where you're left unfulfilled, you might lose interest. You might even fantasize about whacking him with a pillow as you listen to his deep rhythmic breathing beside you after he's been satisfied. You even start to resent him because he seems selfish. If he's not meeting your needs, this is an awkward, but necessary, conversation. Chances are, he doesn't know.
How to fix it
Don't be shy. Speak up. Your goal isn't to hurt him or make him feel inadequate. Your goal is to teach him what you like and make him eager to please you. Find a gentle way to tell him. Then take as much time as you need to teach him what you like. You may even have to give verbal commands during lovemaking: higher, lower, softer, faster, just right.
Sex begins in the mind not in the bedroom. Just because it's low on your list of priorities right now doesn't mean it has to stay there.
Need skills to build intimacy?
---
Subscribe to updates from The Not So Excellent Wife here!
Also known as the Not So Excellent Wife, Sheila Qualls understands how tiring a tough marriage can be. 
She went from the brink of divorce to having a thriving marriage by translating timeless truths into practical skills. She's helped women just like you turn their men into the husbands they want.
After 33 years of marriage, she's a  coach  and a speaker whose passion is to equip women to break relationship-stifling habits and do marriage God's way. And you don't have to be a doormat to do it.
She and her husband Kendall live in Minnesota with their five children and their Black Lab, Largo.
In addition to coaching, Sheila is a member of the MOPS Speaker Network.  Her work has been featured on the MOPS Blog, The Upper Room, Grown and Flown, Scary Mommy, Beliefnet, Candidly Christian, Crosswalk.com, The Mighty and on various other sites on the Internet.