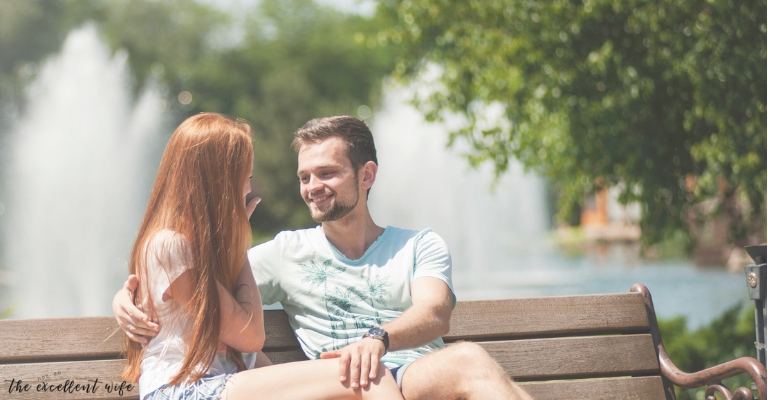 You could talk for hours before you got married. It seemed you could talk about anything. But somewhere the lines of communication have unraveled. Now when you try to talk to him, he just walks away. Or he gets angry. Effective communication in marriage is getting harder and harder.
"I've had it. I finally just blew up," Kendra posted in her Facebook group. "He's so rude. Whenever I try to talk to him, he just walks away."
Kendra's problem is not uncommon among wives. You want to "get" him. But a lot of times you don't. Communication is a battle, even when there's not conflict. The harder you try, the less effective you become. It seems like you're always at odds with one another.
Respect and Communication Go Hand-in-Hand
Why does Kendra's husband choose to walk away instead of engaging with her when she talks to him? Could she be sabotaging communication without even knowing it?
Effective communication is vital to a successful marriage.
According to Shaunti Feldhahn, author of For Women Only, respect is vital to good communication with your man.
Respect is directly related to how openly he'll communicate with you.
Do you build him up or tear him down? Do you encourage or discourage him? Are you supportive or critical?
Women aren't encouraged to respect and value their husbands. In fact, usually they're usually told to do the exact opposite. Do you make your husband feel more like an adversary than a partner?
Your man wants your respect just like you want his love. Having to earn his love would be a nightmare for you.
Give him the respect he needs, and he'll most likely respond by being more open and willing to communicate with you. Good communication will change the dynamics of any relationship.
7 Ways to Change Communication
Here are seven ways to take your communication to the next level:
I hate to admit it, but too many times I haven't assumed the best of my husband. Sometimes I'm defensive and quick to assign motives to his behavior. Assuming the best will open the lines of communication because he'll feel like he can open up to you without facing criticism or condemnation.
Appreciate his differences
God wired him differently. He shouldn't be just like you. He won't think like you. He won't act like you. He won't know what you need unless you tell him. He looks at the world differently than you do. And that's a good thing. You're not supposed to be the same. Learn to appreciate his differences.
Sometimes I've given my friends and complete strangers more grace than I've given my husband. If I'm meeting a friend for coffee and she's late, I'm willing to be gracious and understanding when she explains. If my husband is late, I assume I'm low on the totem pole compared to other obligations in his life. I get resentful and offended. He'll be more likely to open up when you extend grace.
Feldhahn says hearing "thank you" deeply touches your husband's heart. Look for reasons to say "thank you." Thank him for picking up his clothes off the floor. Thank him for helping with the children. He will feel appreciated when you express gratitude.
Are you his biggest cheerleader? No one can encourage a man quite like his wife. Use your words to speak life into him and build him up.
Show him you have faith in his decisions. Ask his opinion. Take his advice. Showing him you trust him will build his confidence and make him more likely to open up to you.
Respect is crucial to communication with your husband. When he feels disrespected, he may respond in anger and shut down. Nothing hurts communication with your husband more than disrespect.
You can revive communication in your marriage by showing respect to your husband. Extend grace, let him know you appreciate him and he may begin to see you as a confidant as opposed to an adversary.
Need skills to build intimacy?
---
Subscribe to updates from The Not So Excellent Wife here!
Also known as the Not So Excellent Wife, Sheila Qualls understands how tiring a tough marriage can be.
She went from the brink of divorce to having a thriving marriage by translating timeless truths into practical skills. She's helped women just like you turn their men into the husbands they want.
After 33 years of marriage, she's a coach and a speaker whose passion is to equip women to break relationship-stifling habits and do marriage God's way. And you don't have to be a doormat to do it.
She and her husband Kendall live in Minnesota with their five children and their Black Lab, Largo.
In addition to coaching, Sheila is a member of the MOPS Speaker Network. Her work has been featured on the MOPS Blog, The Upper Room, Grown and Flown, Scary Mommy, Beliefnet, Candidly Christian, Crosswalk.com, The Mighty and on various other sites on the Internet.