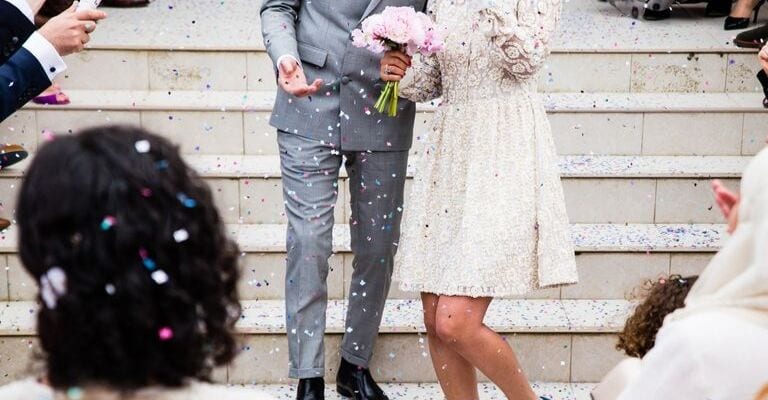 Marrying young isn't for everyone, but there are some benefits to those who do.
People are waiting longer and longer to get married these days. Some think they may somehow be missing out by getting married young.
Others think it's better to get married when you're older and wiser.
Whether you're old or young, marriage can be tough.
You're going to have ups and downs if you marry at 25 or 45.
I've been married for 33 years. I've learned a lot since getting married in my early 20's.
Studies show there are benefits to marrying young
1. You grow together.
Your brain is still developing in your 20s. When you marry young, you grow and grow up together. You establish history and have someone to go through life with. You're less likely to have established patterns and develop preferences that are different from each other. I can compare my older husband to my younger husband and appreciate the man he's become.
2. You have less baggage
The younger you marry the less likely you are to have had serious relationships. Marriage is hard enough. You spare yourself a string of break-ups or exes, which can lead to trust issues, disappointments and comparisons.
3. You have flexibility
You have flexibility around having children. Women who put off marriage until later have less flexibility as to when to have kids and how far apart they can space them. When you marry in your 30s, you start the baby-making process sooner and spend less time together flying solo with your husband.
4. You and your children are safer
According to a report put out by the Heritage Foundation, marriage is the safest place for women and children. The report says marriage protects women and children from violent crimes by acquaintances and strangers.
There are many factors to consider before getting married. But, if you're waiting because you believe you'll have greater success or be happier by marrying later, it's not true for everyone.
I'm not saying everyone should marry young. There are plenty of arguments for waiting.
But if you think you've found the right person and you're in your 20s, you can feel confident in deciding to take on life together.
Marriage is one of the greatest adventures you'll ever have.
If you married young, what benefits do you see?
Need skills to build intimacy?
---
Subscribe to updates from The Not So Excellent Wife here!
Also known as the Not So Excellent Wife, Sheila Qualls understands how tiring a tough marriage can be.
She went from the brink of divorce to having a thriving marriage by translating timeless truths into practical skills. She's helped women just like you turn their men into the husbands they want.
After 33 years of marriage, she's a coach and a speaker whose passion is to equip women to break relationship-stifling habits and do marriage God's way. And you don't have to be a doormat to do it.
In addition to more than 33 years of marriage, Sheila has a Masters Degree in Communication and countless hours of mentoring and coaching women.
She and her husband Kendall live in Minnesota with their five children and their Black Lab, Largo.
In addition to coaching, Sheila is a member of the MOPS Speaker Network. Her work has been featured on the MOPS Blog, The Upper Room, Grown and Flown, Scary Mommy, Beliefnet, Candidly Christian, Crosswalk.com, The Mighty and on various other sites on the Internet.