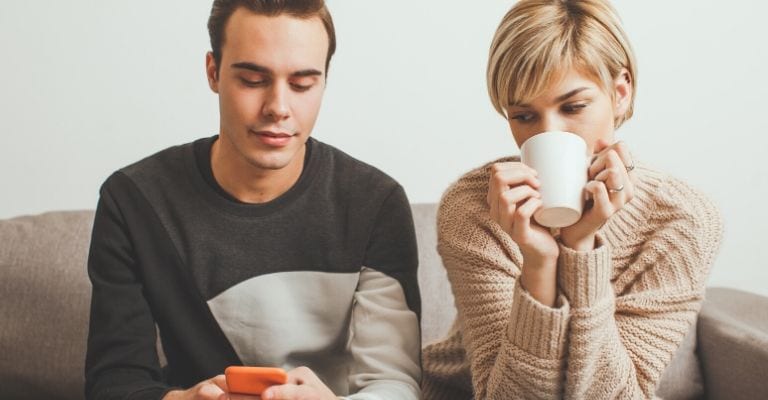 Cheating is just wrong. Most people would agree. If we all know it's wrong, how can cheating be justified?
Cheating doesn't just happen. You make up your mind to cheat long before you do it. After you make the decision, you look for reason to justify it.
He cheated on me. He spends too much time on his phone. He works too much. I'm lonely.
Whatever the reason, cheating's never okay.
You can justify anything you want. When you're running through the rationale in your head, some habits make it easier to come up with justification.
Here are four habits that make you ripe for justifying cheating.
1. Threatening divorce
You may think threatening divorce sounds tough, but it eats at the foundation of your relationship. If you're always thinking of a way out, it may be easy to justify infidelity. Threatening divorce also affects intimacy. It calls commitment into question. You may find yourself emotionally detaching from your husband. Look for reasons to stay in your marriage instead of looking for reasons to get out.
2. Gossiping about your husband
Complaining about your husband to others is gossip. When you tell someone the negative attributes of your husband, you undermine your marriage. You might feel better when you're finished, but without realizing it, you may be doing long-term damage to your marriage. Complaining about your husband will make you vulnerable to an affair. When you're constantly pointing out what's wrong with your husband, it's natural to notice what's right about someone else. You may start to see yourself as a victim, which makes it easier to justify cheating. Be your husband's biggest encourager not his biggest critic.
3. Hanging with friends who don't like your husband
When you spend time with people who don't like your husband, they're not going to support your marriage or your fidelity. They may even encourage you to compromise your character. They may help you find excuses or justification for doing so. Hang out with people who respect marriage and want strong marriages themselves. If your friends don't like your husband, get new friends.
4. Keeping secrets
Social media makes it easy to lead a secret life and hide things from your husband. Keeping secrets can do long-term damage to your relationship. A secretive mindset will open you up to adultery. Keeping secrets makes it easier to justify doing the wrong thing and may lead to romanticizing about a life you don't have. If you want to protect yourself from adultery, never keep secrets from your husband. Be an open book. Share your thoughts, which will build intimacy.
Need skills to build intimacy?
---
Subscribe to updates from The Not So Excellent Wife here!
Also known as the Not So Excellent Wife, Sheila Qualls understands how tiring a tough marriage can be.
She went from the brink of divorce to having a thriving marriage by translating timeless truths into practical skills. She's helped women just like you turn their men into the husbands they want.
After 33 years of marriage, she's a coach and a speaker whose passion is to equip women to break relationship-stifling habits and do marriage God's way. And you don't have to be a doormat to do it.
She and her husband Kendall live in Minnesota with their five children and their Black Lab, Largo.
In addition to coaching, Sheila is a member of the MOPS Speaker Network. Her work has been featured on the MOPS Blog, The Upper Room, Grown and Flown, Scary Mommy, Beliefnet, Candidly Christian, Crosswalk.com, The Mighty and on various other sites on the Internet.