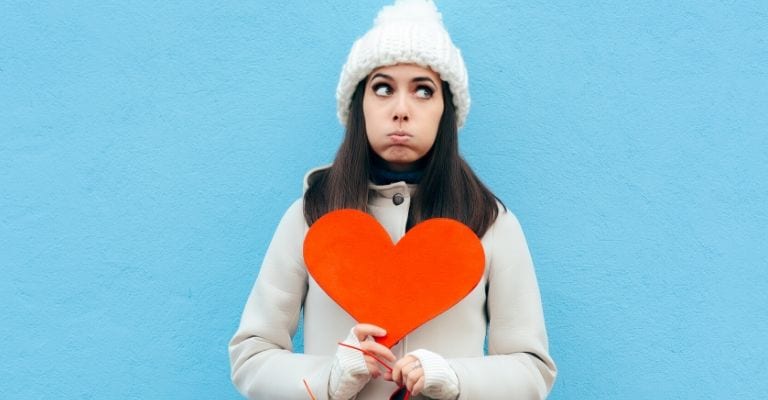 Do you feel like a loser because your man doesn't "do" Valentine's Day?
What do you do when your husband doesn't celebrate Valentines Day?
I mean really, how hard is it to buy a card and scribble 'I love you'?
For some, 'V' Day is a great day. For others, not so much.
If he sends flowers, you feel like a winner. If he doesn't, you feel like an unloved loser.
You can also feel like a loser if he sends flowers, but your bouquet is smaller than someone else's. Or if he runs into Walgreen's and picks up one of those heart-shaped boxes of assorted chocolates on his way home.
You can feel like an afterthought.
Valentine's Day is a popular days for comparison
Comparison always set you up for disappointment.
Whenever you compare yourself to others, you'll always lose. You'll feel bad about yourself or your marriage because no matter how good your marriage is, you can always find someone's else's that's better.
Comparison is a sure-fire way to stir up discontentment, which can make you critical.
If you really don't care whether or not your husband recognizes Valentine's Day, good for you.
But what if you do?
Instead of feeling sorry for yourself, here are seven ways to avoid feeling like a loser when the comparison bug rears its ugly head this Valentine's Day:
If you're disappointed, let him know how you feel without sulking or criticizing. Express yourself with "I'm hurt because. . ." or "I'm disappointed because… "
Take initiative to come up with your own plans. Plan a romantic dinner or watch a chick flick.
Maintain perspective. Appreciate what he does do for you. Is he normally considerate and thoughtful? Does he warm up your car or make your coffee?
Remind yourself of all the ways he shows his love to you throughout the year.
Invest in making someone else's day special. Buy candy or flowers for someone whose husband doesn't recognize Valentine's Day. Or have a girls night out.
Remind yourself–whether or not he recognizes you–Valentine's Day doesn't define your relationship.
Make his day special and expect nothing in return.
Valentine's Day can be a bummer, but it doesn't have to be. If he recognizes you (no matter how small the gesture), thank him. If he doesn't, focus on the bright spots in your life instead of allowing comparison to cast a dark cloud.
Need skills to build intimacy?
---
Subscribe to updates from The Not So Excellent Wife here!
Also known as the Not So Excellent Wife, Sheila Qualls understands how tiring a tough marriage can be.
She went from the brink of divorce to having a thriving marriage by translating timeless truths into practical skills. She's helped women just like you turn their men into the husbands they want.
After 33 years of marriage, she's a coach and a speaker whose passion is to equip women to break relationship-stifling habits and do marriage God's way. And you don't have to be a doormat to do it.
She and her husband Kendall live in Minnesota with their five children and their Black Lab, Largo.
In addition to coaching, Sheila is a member of the MOPS Speaker Network. Her work has been featured on the MOPS Blog, The Upper Room, Grown and Flown, Scary Mommy, Beliefnet, Candidly Christian, Crosswalk.com, The Mighty and on various other sites on the Internet.