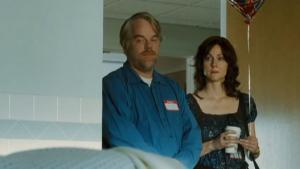 When I was in graduate school, I read a lot of books by American Buddhists and Tibetan Buddhists who'd come to the US.  (This was not what I was studying, but this is what I read.  Maybe this is why I had to delay my comps by a semester.)  In one of the books, the author suggests moving throughout your day imagining that all the people around you were once your mother, moving about in that tenderness.  I think of that at Christmas, with my own mother before me—moving through the world, imagining mothers, and then coming home and having your mother sitting next to you on Christmas morning, still having to imagine her, given how mysterious humans are to each other, even mothers, even ones sitting right there.
*
My mom, brother, and I sit before Christmas trying to decide what we can watch on TV.  The circuit of us contains an excess of emotional energy—my brother's life in flux, my life in flux, my mother plugging into our psychic eggs and funneling off our latent anxiety, so that her hair figuratively stands on end.  The only thing that finally calms her down is sitting in a dim room with us, watching Alias Grace, the beautiful nineteenth-century look of it, the calm Irish narration, the murder flashbacks.  Sarah Polley's adaptation of Atwood's novel is so lovely and lulling, even as it shows how a person could be screwed down by patriarchy and class.  Screwed to the sticking point.  At one point, my mother spits out, "Patriarchy!  If I had lived in another time, I probably would have ended up dead," before settling down again, hugging her pillow, her eyes fixed on the screen.  She is probably right.
*
I keep mixing up my brother's name and my son's.  I was fifteen when my brother was born, and now he is "Uncle Alex" to my son, though my mother and I have only ever called him Alexander or Zander.  Alex is his public persona, but also the name of an old German uncle of his who I have never actually met.  Alex is a bit of a mystery, whereas Alexander is similar to me in his existential uneasiness and love of the absurd, so less mysterious to me than my twin in our approach to the mystery.  As I brush my teeth, I think about what would happen if we were in one of those movies where an older sibling dies unexpectedly, leaving a young guy to be a single parent.  If this happened to "Alex," he would research the best bilingual schools in the area, make a spreadsheet, set up a college account.  Alexander would write a graphic novel about the experience.  Alex would invest the profits.
*
I read in one of my mom's People Magazines about a guy named A. J. Jacobs who is researching how all humans are related to each other.  He has a family tree of millions, and he can connect himself to any famous person.  George W. Bush is his first cousin once removed's husband's third-great-grandmother's third-great-nephew.  Jacobs reports that he used to hate Judge Judy until he found out she's his eighth cousin, at which point his "heart softened," thinking of "cousin Judy … just doing her shtick."
*
My son's father asks my stepfather Bill if he's seen the new documentary series about Vietnam, commenting that he always wonders if he'll see someone he knows in the footage.  Bill says he has recorded the series and will watch it after Christmas.  He begins to explain where he was in the late '60s, which provinces … near Laos, in helicopters, artillery . . . .  He mentions meeting a woman from Vietnam at a party recently, how long she'd been in the States, how Vietnam is bracing now for a storm but is otherwise thriving after years of war with a series of countries, and maybe that was the point of the war in the first place, natural resources and a people capable of thriving, having to engage with those who would exploit that.  I wonder if Bill and the woman are related.  Of course they are.  He speaks for several minutes, longer than I've heard him talk about his experience there.  "Anyway, thanks for the flashbacks," he jokes.
*
My mother is fond of saying that she doesn't care for poetry, but she likes mine because it's all about her, that she can follow my voice and stories because I'm "her person" and they make sense to her.  My stepbrother Carl remarks that we've discovered the key to getting people to read poetry—write poems about them.  "It's like a scam," I say.  "A scam on one person," he replies.
*
"All of literature is a search for the father."  An older white man in cowboy boots sat at the head of a seminar table in Kansas and said this to me and a group of young graduate students when I was getting my master's.  I have read many books about the search for the mother—I got two more such books for Christmas—but they are harder to recognize, as the mother being searched for in the story is usually right in front of the protagonist's eyes.  Actually, scratch that.  They aren't hard to recognize.
Joanna Penn Cooper is the author of The Itinerant Girl's Guide to Self-Hypnosis (Brooklyn Arts Press), a book of lyrical shorts, and What Is a Domicile (Noctuary Press), a book of poems. She lives in Durham, North Carolina. She curates the "Approaching Mystery" series for Sick Pilgrim, publishing flash essays by writers encountering the unseen, the uncanny, and the unresolvable.  Joanna is teaching an online course on flash memoir starting January 12th.  More information can be found here.