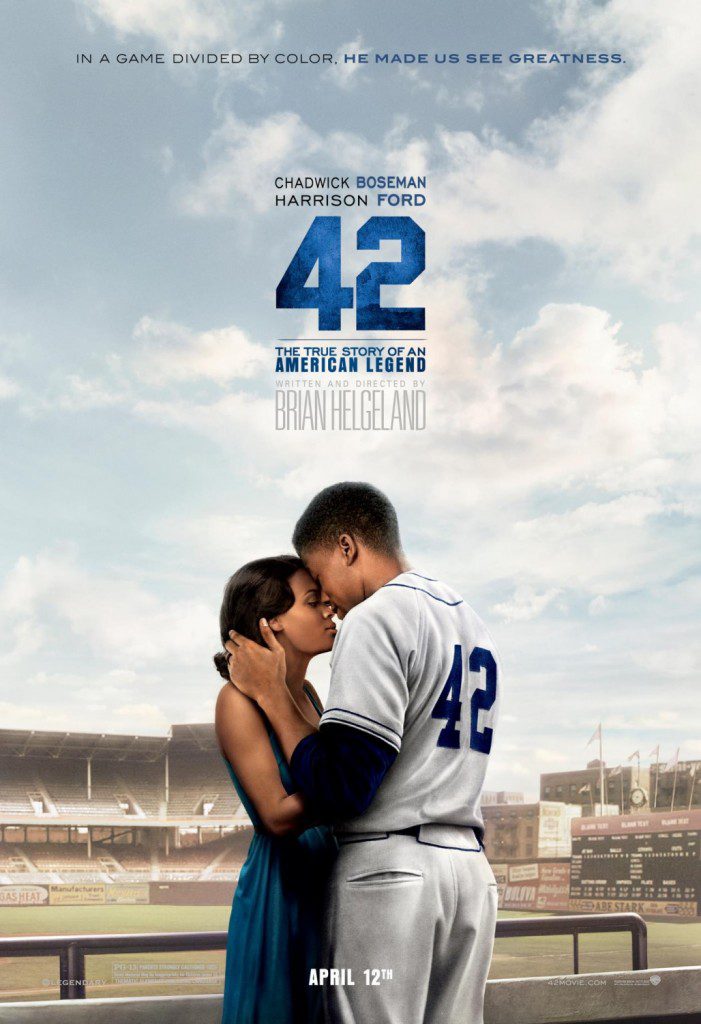 In John Sexton's passionate book about the game of baseball, "Baseball as a Road to God: Seeing Beyond the Game: Seeing Beyond the Game" (Gotham/Penguin, 2013), he describes the mysticism of the game in perfectly accessible terms:
"Baseball, as it turns out, can help us develop the capacity to see through to another, sacred space. Indeed, the more we come to appreciate the sport's intricacies and evocative power, the clearer it is that it shares much with what we traditionally have called religion."
Sexton describes the mystical experience of baseball as something overwhelming, almost "ineffable," indescribable.
In "42," filmmaker Brian Helgeland tells the stories of two men of faith whose character and choices transformed lives, refocused visions, and instilled prayer in baseball. Whether or not these men felt the same as Sexton and others about playing baseball is not clear.
But what is evident, as Michael G. Reel, an African-American news editor, told me after the recent "42" press day, "This film is the story of two men who did not allow history to pass them by."
The inspiring story
After World War II, Brooklyn Dodgers president and general manager Branch Rickey (Harrison Ford) is looking for a way to sign an African American to the team, a risky move that few understood. Why risky? Because black players in those years did not play with whites, especially in games in the South.
Rickey (who pioneered the modern minor league farm system) explains to his assistant Harold (T.R. Knight) that he's adding a black player because it will increase ticket sales and because more very talented black players who love the game are coming.
Rickey identifies Jackie Robinson (Chadwick Boseman), a graduate of Pasadena's Muir High School who lettered in every sport at UCLA and is already playing in the Negro League. Harold perceives trouble, however, because Jackie seems to have a temper and had been court-martialed by the Army, albeit on trumped-up charges of misbehavior (he later received an honorable discharge).
"Besides that," Rickey tells Harold as if to dismiss any problem, "I am a Methodist, Robinson's a Methodist, God's a Methodist…." If only it were to be so easy.
At their historic meeting, Rickey tests Jackie's resolve and asks what he will do when fans and players torment him. "I want a player who's got the guts not to fight back," says Rickey. "Your enemy will be out in force, and you cannot meet him on his own low ground."
Robinson replies, "You give me a uniform, you give me a number on my back, and I'll give you the guts." Later Jackie says, "God built me to last."
Rickey also tells him that if the others insult him and he insults them back, the only thing people will remember is what he says. "Be as our Savior and turn the other cheek."
Jackie, in turn, presses for a reason why the famous Branch Rickey wants to hire him. The aging executive always responds that it is about money, until the end of the film when he reveals the truth.
Jackie calls his fiancé Rachel Isum (Nicole Beharie) in Pasadena to set the wedding date before the season begins. After their marriage, and as an exception, she travels with him to spring training. An airline agent in one southern city cancels their tickets when she sees Rachel, who was not raised in the segregated Jim Crow South, use a ladies room marked "whites only." The young couple takes the bus.
Jackie is signed by the Brooklyn Dodgers despite the fact that some team members oppose him and sign a petition to exclude the black player. Pee Wee Reese (Lucas Black) does not sign and welcomes Jackie.
But opposing teams are worse than the Dodgers. Ben Chapman (Alan Tudyk) of the Philadelphia Phillies taunts Jackie when he is at bat, heckling and using racial slurs to intimidate the new player.
Just before the Dodgers set out for Cincinnati, Pee Wee Reese approaches Rickey with a death threat he received. Rickey pulls out three files of angry letters from people who hate what he has done in signing a Negro player and tells Reese that he, too, is concerned and so is the FBI. At that game in Cincinnati, Reese puts his arm around Jackie's shoulders for all to see in a show of solidarity and sportsmanship.
The whole team is tested when team manager Leo Durocher (Christopher Meloni), who doesn't care about a man's skin color, is suspended for a year from baseball when the national Catholic Youth Organization (CYO) threatens to boycott baseball because of the carousing Durocher's rather public love affairs.
In his career Jackie Robinson proved himself a hero. He played great baseball, and his base-stealing provides some of the most exciting sequences in the film.
Yet his true strength was his character. In one deeply moving scene, when he can take no more of Chapman's provocations, he walks off the field and almost has a breakdown in the tunnel. Rickey, a mentor and a hero, too, comes to find Jackie, and together, they return to the game.
Elected to Baseball's Hall of fame in 1962, his first year of eligibility, Robinson died in 1972, 25 years after making history. A quarter century later, his number, "42" was retired and no major league ball player has worn the number since (except for the Yankees' Mariano Rivera, who wore 42 before 1997). In 2004 "Jackie Robinson Day" was established and each year on April 15, every major league player wears the number "42" for a day.
Rachel's suggestions
I cannot tell you how many times I was genuinely moved by "42" — certainly the best film of 2013 so far.
At the press day for the film, director/writer Helgeland ("A Knight's Tale," "Mystic River"), described his meeting with Rachel Robinson, now 90, who consulted on the script….
click HERE to continue reading at "The Tidings"