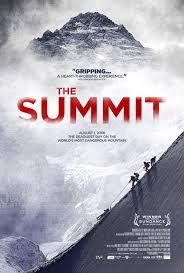 Anyone who is intrigued by mountain climbing and why people are willing to risk their lives to scale the highest peaks on the earth, will be intrigued by "The Summit."
In some ways it's not that different from the 1998 IMAX documentary "Everest" that chronicled the disaster that Jon Krakauer wrote about in his best-seller "Into Thin Air" (at least two other films were made about this tragedy as well.) In a freak storm in 1996 eight climbers, some of the best in the world, lost their lives.
"The Summit" is about an even bigger disaster but it happened on K2, also called "Savage Mountain". K2 is the second highest mountain in the world after Everest at 28, 251 feet, and is located on the border between Pakistan and China, on a northwestern extension of the Himalayan range. One our of four mountaineers who attempt to climb K2 die in the attempt.
On an August day in 2008, 22 climbers ascended the summit of K2 but 48 hours later, half were dead or missing. This is their story and it is riveting. The film focuses on one climber in particular, Ger McDonnell, the first person from Ireland to ever summit the mountain.
Although I cannot even imagine wanting to climb a mountain that ignores oxygen and is freezing on the best of days, I am fascinated by those who do. I am interested in the ways people act toward each other in horrific and chaotic conditions over which they lose any control they might have had – that they must have known were a possibility.
Are they heroes or fools? The adventuresome, ambitious, and competitive spirit that drives climbers is unfathomable to me, but movies about their accomplishments and disasters that strike, make voyeurs of us all. One thing is for sure, the loved ones of anyone who dies on such a mountains, mourn their loss even as they claim to understand the climber's passion.
This documentary has been created from incredible footage taken by the climbers. It is directed by Nick Ryan and written by Mark Monroe who is the award winning screenwriter for such documentaries as "The Cove", which won an Oscar, and "Chasing Ice."