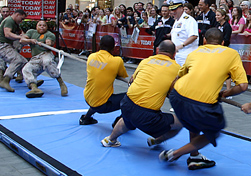 A Season Wrought With Tension.
Daily Advent Reflection.
Kyle Mobley.
Psalm 85
Friday December 2, 2011
O come, O come, Emmanuel
And ransom captive Israel
That mourns in lonely exile here
Until the Son of God appears
Rejoice! Rejoice! Rejoice!
Rejoice! Rejoice! Rejoice!
These daily Slow Church Advent Reflections are based on the Daily Readings of the Revised Common Lectionary (Year B). We love for you to read and reflect along with us!
To keep up with this daily Advent series, follow SlowChurch.com on FACEBOOK or TWITTER.
As those who have been raised into the Western World, we must come to grips with the ways in which we have been formed into that perverse epistemology, self-centeredness. As Chris has pointed out this week, we must constantly fight the temptation to give into a bombardment of consumerism, individualism, and other ways of self-indulgence that typify Babylon. Out of necessity, we must become critical and, as David Dark has put it, make sacred the practice of questioning everything.
The lectionary has provided for us Psalm 85 to meditate on until Sunday. In his commentary, Marvin E. Tate insists that this psalm "is a prayer for renewal of 'life' among the people of Yahweh" [1]. In verse seven, the Psalmist pleads for God to revive his people, literally, to give it life again. As we read in the story of Scripture from beginning to end, God is life and gives life (Gen 2:7, Jn 14:6; 1 Jn 5:12; Rev 22:1) to those who seek to be faithful. One of the most glorious aspects about the nature of this life is that it is not bound up in the "celestial realm." This abundant life that God gives is life to be lived on the earth, "a well-being of a material, physical, historical kind… salvation in the midst of trees and crops and enemies," as Walter Brueggemann has noted [2]. Slow Church theology is bound up in this view of life. As the church, the new Israel, we must pray together (as Israel prayed the Psalms together) for the revival of life amongst us in our particular places in the world. We must not settle for "pie in the sky" theology that saves our souls but leaves us in want of wisdom and guidance for new life together now in our own places. Together we must dedicate ourselves to living into the new reality of peace, shalom, of which the author of Psalm 85 refers in vv. 8,10. For as the end of Psalm proclaims, "Righteousness will go before him and make his footsteps a way" (v. 13).
So yes, we must question everything; we must constantly critique our culture and ourselves in the midst of our culture. And yes, we must seek to live into a new way of life as the Psalmist ardently conveys. Jacques Ellul named this tension for us over and again in his books and essays. He called it dialectic. He pointed to dialectic tension as foundational for understanding the story of Scripture. We cannot only point out the false wisdom of a world shaped around selfishness; as the People of God, we must also pray with the Psalmist, "Will you not revive us again, that your people may rejoice in you?" (v. 6).
Advent is a season wrought with tension. We know that Christ has come, and yet we wait, we prepare, we long for him to come. As communities of faith in particular places made up of particular people, we must in our own places wrestle through the particular ways we have given into Babylon while at the same time being a renewed people. To echo Chris from yesterday, "as we confess this unfaithfulness together, may God's Spirit move within our communities to stir our imaginations with visions of how we might begin to move together in the direction of deeper commitment to one another, to our neighbors, and to God." Let us not be content with dissolving the tension (which Ellul says leads to death); let us live in the tension together seeking the truth that "faithfulness springs up from the ground, and righteousness looks down from the sky" (v. 11).
——–
Kyle Mobley is a recent graduate of Johnson University who now lives on the Near Eastside of Indianapolis as a part of the Englewood Christian Church Community.
[1]: Tate, Marvin E. Psalms 51-100 (Word Biblical Commentary). Nashville: Thomas Nelson, 1990, 372
[2]: Brueggemann, Walter. Living Toward a Vision: Biblical Reflections of Shalom. Philadelphia: United Church Press, 1982. (As quoted in Tate 1990,372)