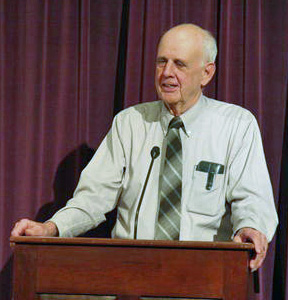 John's post on Saturday on the Moral Importance of the iPhone reminded me of one of my favorite courses in college, an honors seminar on technology and community.  This class was my first deep immersion into the works of Wendell Berry, and it was also where I first encountered the work of the Amish writer David Kline. A major thrust of the course was reflecting on the ways in which our choices about technology impact the shape of our communities (as families, as churches and as neighborhoods.  One of the pieces we read for the class was Wendell Berry's little essay "Why I am NOT going to buy a computer," which features this list of Berry's standards for technological innovation:
1. The new tool should be cheaper than the one it replaces.
2. It should be at least as small in scale as the one it replaces.
3. It should do work that is clearly and demonstrably better than the one it replaces.
4. It should use less energy than the one it replaces.
5. If possible, it should use some form of solar energy, such as that of the body.
6. It should be repairable by a person of ordinary intelligence, provided that he or she has the necessary tools.
7. It should be purchasable and repairable as near to home as possible.
8. It should come from a small, privately owned shop or store that will take it back for maintenance and repair.
9. It should not replace or disrupt anything good that already exists, and this includes family and community relationships.
It's easy to dismiss Berry's views on technology as those of a stubborn Luddite, but I think these standards are particularly useful for church communities as we reflect on and make discernments together about our faithfulness in a overwhelmingly technological world.  We may not end up in the same place that Berry did, but these standards give us a place to enter into the conversation.  Another really helpful resource, and one that is somewhat more sympathetic to computer technology is
Shane Hipps' recent book Flickering Pixels
.
At the heart of our vision of Slow Church is the local church community as a discerning body.  We must constantly be in conversation and discerning how we are going to embody Christ together in our particular places.  The aim is not to create a new legalism, but rather to be in conversation about the basic shape that our life together will take. As a people called to bear witness to God's reconciliation of all things, we have much to discuss together, but when we come to reflecting on technology and the ways that it shapes us, I can think of no better place to start that conversation than the above list of standards from Wendell Berry.