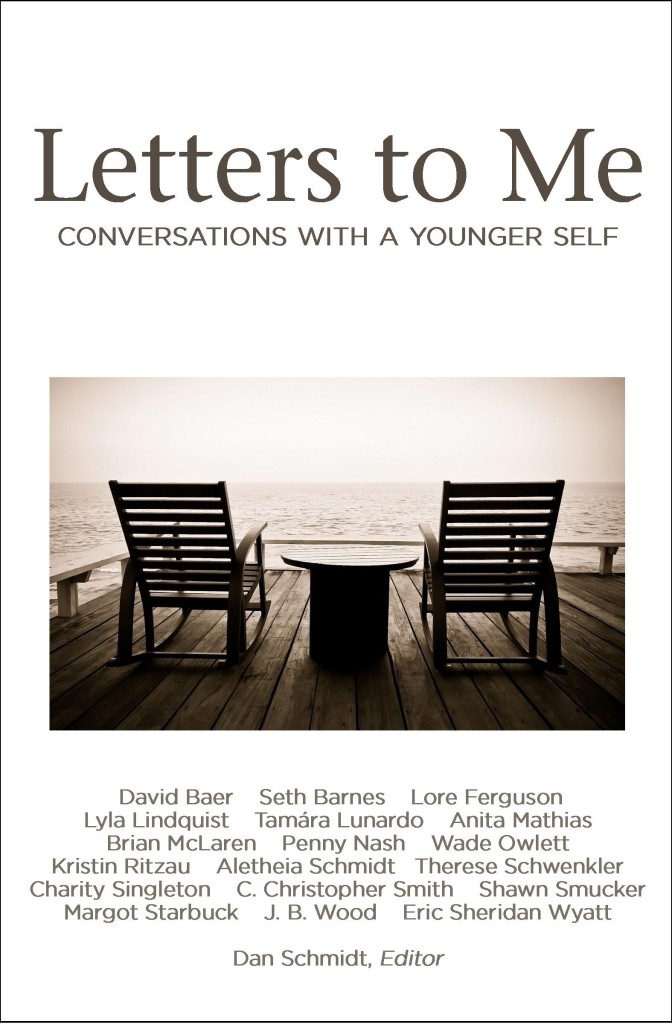 A new book to which I have contributed was released yesterday…
Letters to Me: Conversations with A Younger Self
Other Contributors include: Margot Starbuck, Tamára Lunardo, David Baer, Seth Barnes, Lore Ferguson, Lyla Lindquist, Anita Mathia, Brian McLaren, Penny Nash, Wade Owlett, Kristin Ritzau, Aletheia Schmidt, Therese Schwenkler, Charity Singleton, Shawn Smucker, J. B. Wood, and Eric Sheridan Wyatt
Buy now:
[ Amazon Paperback ] [ Kindle ]
What's the book about? Writers remember something that happened when they were between 18 and 30, and then send a letter to themselves about that event. With the benefit of hindsight and reflection, they warn, challenge, and encourage a younger self facing a problem at work, a budding relationship, an important decision, an unexpected development…
From the book's intro:
[In this book, you'll find writers] "talking to their younger selves about things that really took place. As you read, you'll be the fly on a wall during conversations between early and more mature versions of the same person—which means that you'll get to hear two sides (at least) of some rather important discussions. You'll witness critical moments as people are facing decisions that will affect the course of the next 5, 10, or 30 years.
You might find yourself wishing you'd had this sort of counsel when you faced the same forks in the road, too.
The good news? That even after something has happened, it's hardly ever too late to make a change, to head in a different direction. Some of the fictional stories we like say the same thing: that for all our interest in going back, for all our eagerness to leap ahead, life right now can still be managed agreeably, provided we're willing to slow down and ponder, and then to make a few adjustments.
While most of this book's contributors are rooted in the Christian faith, we also come from an array of traditions and experiences which have shaped our values and perspectives. An important piece of the common ground we occupy, however, is an interest in the examined life, and how that affects the way we go through our days."
Watch for a brief excerpt from the letter I wrote for this collection on The Englewood Review of Books website early next week…
Buy the book: [ Amazon Paperback ] [ Kindle ]