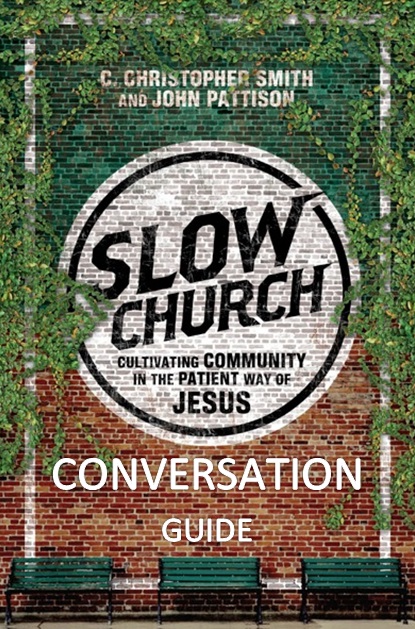 Though each chapter of Slow Church ends with "conversation starters," questions meant to help prompt discussion, it's always been our goal to create a more robust conversation guide. But we've been running behind schedule on it. Honestly, the last few months have been busier and "faster" than we expected, as we've been blessed to travel around the country to talk about the book in dozens of backyards, living rooms, churches, conferences, colleges and universities.
But now we're hearing from many churches and study groups that are going through Slow Church together, and so the conversation guide has become a top priority again. Below you will find a beta version of that conversation guide. It includes the first seven sessions (out of a total of 11). We're working hard on the final four sessions.
We're releasing this now for two reasons. The first reason is that we've been asked to by several of the churches, home groups, Sunday school classes, and Bible studies who are reading the book in community. The second reason is that we want you to help us make it better. As you utilize the conversation guide, we would be deeply grateful if you would give us feedback on how to make the it better. This might include:
Facilitator resources that should be included
Questions that should be added, dropped, or re-worded
Ways in which the conversation guide worked (or didn't quite work) in your context
Any other words of encouragement or helpful suggestions
Send your feedback to me at this address: johnepattison [at] gmail [dot] com.
Thanks for all your help with this. We think it will take a conversation to make the conversation guide as good as it can be.
Note: The complete Study Guide is now available here: www.slowchurch.com/study-guide!