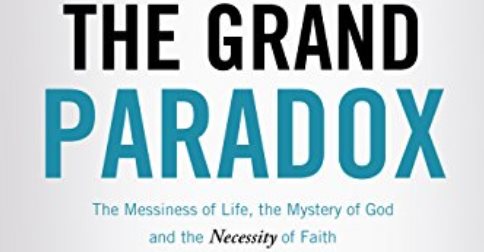 [ This post is part of the Patheos Book Club
discussion of THE GRAND PARADOX ]
Ken Wytsma
Hardback: Thomas Nelson, 2015.
In my early years of college, I went through somewhat of a crisis of faith, questioning who God was and how God relates to humanity. It was a pretty bleak time, but eventually through long series of conversations with friends and through reading certain works of writers in the Christian tradition like C.S. Lewis, Madeleine L'Engle and Frederick Buechner, I eventually grew into a deeper, more resilient understanding of God, and of how God is at work in humanity.
This crisis in my own life came to mind as I was reading Ken Wytsma's new book The Grand Paradox: The Messiness of Life, the Mystery of God and the Necessity of Faith. I suspect that had it been in existence over two decades ago, when I was in college, I would have found this book immensely helpful and comforting amidst my struggles.
Wytsma introduces the task he is undertaking in the book:
We want answers from God. We have a ravenous appetite for clarity in life. And often, we desire justification or, at least, some kind of explanation for why He allows certain things to transpire. God, however, is more mysterious than we think He should be or wish He were. Most of the time, we don't receive the desired answers or the clarity for which we clamor. In spite of our seeking, God seems just out of our reach. Try as we might, we can't pin Him down.

In short, the truth is: life is messy, and God is mysterious.

We struggle with these truths. We spend our energy, often wrestling in prayer, hoping to attain that place of peace in which our life is less difficult, painful and challenging.

…

So how do we live, grow, flourish, and remain content in the mess? How do we trust, follow, and continue to obey God when He seems to remain elusive? (xix-xx)
Writing in a very accessible style that would work well with college student or other young adults (or even students in the upper years of high school), Wytsma wrestles with questions of faith and doubt, justice and happiness, love and vocation. The Grand Paradox is sensitive to all of the technological and philosophical challenges of living in the twenty-first century. In the chapter "Complexity and the Limits of Human Understanding," Wytsma asks the pointed questions:
Though learning, traveling, and understanding are all good things, is there a saturation point? Is there a point where the pressure to see and do everything becomes unhealthy? How do we know when to stop, to take a step back, and let go of our hunger for more? When we always can do more, it requires trust to stop and not do any more. … What are the effects of these influences on our faith? How are we supposed to cling to faith in the midst of such a turbulent era? (105)
In spite of all his refreshingly honest questioning, Wytsma ultimately comes out on the side of faith, hope, and love: faith that God is sovereign, hope that guides us through doubt and dark nights of the soul, and God's love that ever sustains us and helps us to grow.
For those who are interested in Slow Church, there is a helpful chapter on the importance of the local church. My only (tiny) criticism about this exceptionally helpful book is that I wish the significance of the church could have been sprinkled liberally throughout all the chapters of the book, and not simply relegated to a late chapter in the arc of book's narrative, which would have strengthened not only Wytsma's argument on behalf of the local church, but also the primary argument of the book, as the church – at its best and most faithful – can be an anchor for us amidst the storms of doubt and the crises of life, as well as a tangible expression of God's love and care for us. Maybe we are too deeply formed by the individualism of Western culture that such an argument would not connect with the expected audience of this book? I do appreciate the ecclesiology that Wytsma offers, I simply wish that the book as a whole would have been a little more saturated with it.
My minor quibble aside, this is an extraordinary and helpful book. Had I read it in the midst of my own crises of faith, I might have been spared a substantial amount of grief. I pray that Wytsma's words here will be wise and comforting friends to many folks (young and old), who are going through their own periods of darkness.