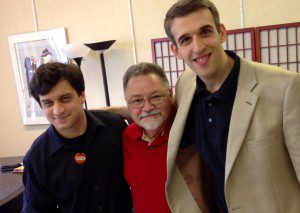 It was a sight to see. Catholics, Christians, deists, agnostics, and atheists – all sharing a Saturday afternoon together at the Unitarian Universalist Congregation of Central  Nassua in Garden City, NY – wrestling with big questions in a spirit of civility. It was a rare gem.
I was greeted by my friend Adam Lee and had the pleasure of spending some time with him, his wife, parents, and in-laws. They were so warm and welcoming – I felt like I had known them for years.
I then met our moderator Charles who had a fascinating perspective with a background in the Jewish and Catholic faith traditions, actually attending Catholic seminary for quite some time and in his skepticism ultimately forgoing priesthood. A teacher and principle with a masters in philosophy, having a profound respect for theology, yet holding a skeptical lie – he challenged Adam and I equally on a number of points.
Our "debate" (which I prefer the term "forum") began with Charles giving some history on Unitarian Universalism. After the introduction, Adam and I gave brief biographies and a 30,000 foot view of our positions. What was interesting about this debate was that were no "canned" questions from our moderator. He immediately opened up questions from the audience to shape the agenda.
A number of questions and topics were put forward, a few of which included:
What does the term "God" mean?
Definitions of "faith", "proof", and "atheism"
Separation of church and state (marriage, religious holidays, religious celebration on public property, etc.)
Defining morality in our respective worldviews
Biblical reliability, moral paradoxes, etc.
Ultimately, the spirit of the event was explaining why we believe what we do and how we wrestle the big questions. Adam and I presented our views which promoted further questions and there was some great discussion in the audience. It was very memorable for me, truly an honor and privilege to share the stage with my friend Adam Lee to share my views, learn more about his views, and spend some time with his friends and family.
At the end of the day, Adam and I were told by a number of people that it was an awesome and inspiring sight to see – two young men joined together in their differences, yet growing in their friendship. Not necessarily a revolution of ideas (though I like to think Adam and I have a few fresh ones), but a revolution of how to have the discussion.
Amen.
Until the next one…