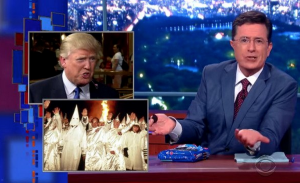 Stephen Colbert had his debut on the Late Show this week and we were all watching with anticipation. After all of the hype, we were wondering if he'd play into the liberal agenda he often promoted on Comedy Central or would turn a new leaf.
Unfortunately, the liberal agenda is as strong as ever.
Colbert resorted to the same old partisan left-leaning tirades that have become so predictable and tired.
Stephen Colbert's first night on the Late Show proved he's still every bit the left wing hack he was on Comedy Central. He spent almost six solid minutes bashing Donald Trump but not a single joke about Hillary Clinton's email scandal or crazy Socialist Bernie Sanders.

In the course of his anti-Trump routine, he even put Donald Trump's face on screen with an image of the KKK.

In [t]he first show he plays the Trump-KKK comparison. Sad.

Like all good little liberals, Colbert fails to acknowledge that the KKK was created by Democrats.
First, it's absurd – though not surprising – that Colbert can get away with making such an offensive comparison. No pushback. No challenging. As William F. Buckley used to point out, this just goes to show that it is liberals, not conservatives, who lack the ability to think with nuance. But then again, I suppose it's questionable whether many liberals are able to think at all.
Second, Stephen Colbert should know better. He has shown glimpses of being able to be brilliant in his political commentary, skewering scandals on all sides of the political aisle.
But in his debut, he resorted to jokes comparing Donald Trump to the KKK. It might have received cheap laughs among coastal elites, but millions of average Americans weren't laughing.
And neither was I.
Read more on the Patheos Faith and Family Channel, fan me on Facebook and follow me on Twitter!