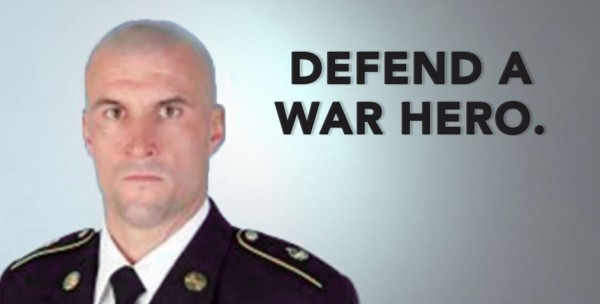 Time is running out for a true American hero.
You won't be able to read very much about Sergeant First Class Charles Martland in mainstream media. But some Members of Congress and the ACLJ have been working hard to defend this war hero for doing the right thing.
I've written previously about the problems of child rape and sexual abuse by some American allies in Afghanistan. But now, someone who served alongside Green Beret SFC Martland has spoken out about this evil.
Virginia Delegate Nick Freitas served alongside Charles Martland and his testimony last week has gone viral. He has corroborated Martland's story and reiterated the absurdity of his removal from the Military.
As Delegate Freitas recalls, here's once again what happened.
A small Afghan boy came up to Sergeant Martland and pled for help. The boy had been tied to a post and sexually and physically brutalized for days by an Afghan police officer. Sergeant Martland confronted the police officer with his superior officer, the boy, and the boy's mother. The sexual predator laughed at Martland, the child, and his mother.
He laughed at the boy who he had raped for days.
Martland proceeded to punish the officer. He beat him. And the U.S. Military seems to find that enough of a reason to kick him out of the military?
As Delegate Freitas points out, the motto of Green Berets is to free the oppressed – regardless of what religion they are or what their nationality is.
He talks about building relations with the Afghan people and building trust, saying "Those people you are serving are also your family."
He then says something that sent goosebumps all over my body.
"You don't truly appreciate evil when you look at it; you appreciate what it is when it looks back."
He asks the question, "What are you going to do when you confront evil?"
It says a lot that the small child sees Martland and his uniform and the flag on his shoulder as a symbol of protection. But now, the U.S. Military is poised to punish Martland any day now by kicking him out of the Army. This is a man we should be proud is wearing the uniform and defending the vulnerable all over the world. This is a man who did the right thing.
We must do the right thing now and protect him. You can sign the ACLJ's petition here. Join over 300,000 who are standing up for what is right and urging the American government to do the same.
(Photo: American Center for Law & Justice)
Pre-Order my Upcoming Book, There Goes My Social Life: From Clueless to Conservative
!
Read more on the Patheos Faith and Family Channel, fan me on Facebook and follow me on Twitter.