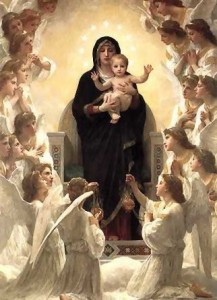 What do you do when a Protestant Christian challenges Catholic devotion to Mary as being excessive and distorted? My favorite correspondent came up with some Catholic quotes that were real showstoppers. Among others he quoted Pope Pius IX who, in Ubi Primum, wrote these words in praise of Mary:
From our earliest years nothing has ever been closer to our heart than devotion‑-filial, profound, and wholehearted‑-to the most blessed Virgin Mary. Always have We endeavored to do everything that would redound to the greater glory of the Blessed Virgin, promote her honor, and encourage devotion to her….  Great indeed is Our trust in Mary. The resplendent glory of hermerits, far exceeding all the choirs of angels, elevates her to the very steps of the throne of God. Her foot has crushed the head of Satan. Set up between Christ and His Church, Mary, ever lovable and full of grace, always has delivered the Christian people from their greatest calamities and from the snares and assaults of all their enemies, ever rescuing them from ruin….  The foundation of all Our confidence, as you know well, Venerable Brethren, is found in the Blessed Virgin Mary. For, God has committed to Mary the treasury of all good things, in order that everyone may know that through her are obtained every hope, every grace, and all salvation. For this is His will, that we obtain everything through Mary.
My Protestant friend made the point that if Pius IX's references to Mary were replaced by references to Jesus Christ, the quote would be uncontroversially Christian.  As it is, he protested, it says things of Mary that should be said only of God. Was it true that nothing was closer to Pius IX's heart than devotion to Mary?  Could it be true that the foundation of all [his] confidence" is Mary? Is it really through her that we obtain "every hope, every grace and all salvation"?
On the face of it, this is rather difficult to answer. Pius IX's words do seem excessive. Continue Reading
---