Christmas, 1969
I was living in Makakilo on the island of Oahu and Santa was rumored to be making an early appearance at a beachside community center on the other side of the island.
I told my mother I didn't want to go see Santa, but she was forcing me to go anyway.
"Why don't you want to go?" She asked.
I couldn't tell her the real reason. I didn't want to upset her. As far back as I could remember she'd been doing a great job of helping me experience the magic of Christmas, and I didn't want to hurt her feelings.
In my elementary school days, I remember driving early every December to go pick out a pine tree shipped in from the mainland at a local store. My sister and I would run through the forest of trees lit by a thousand moons suspended by strings of electrical wires looking for the best shaped Norfolk. When we found it, my father would strap it onto our Ford station wagon and drive home.
Back at the house, he cut a few inches off the bottom of the trunk, shoved it into spikes protruding from a red stand, then propped the tree in the corner of the living room. Later that evening we'd dress it with colored bulbs, which made my face balloon when I peered into them, and with long silvery strands of tinsel that hung like icicles.
I remember how magnificently those colored bulbs would shatter when you threw them at the sidewalk, and how, if you stuck one end of a tinsel strand between your front teeth and blew hard enough you could pretend you were a snake with a ginormous silver tongue.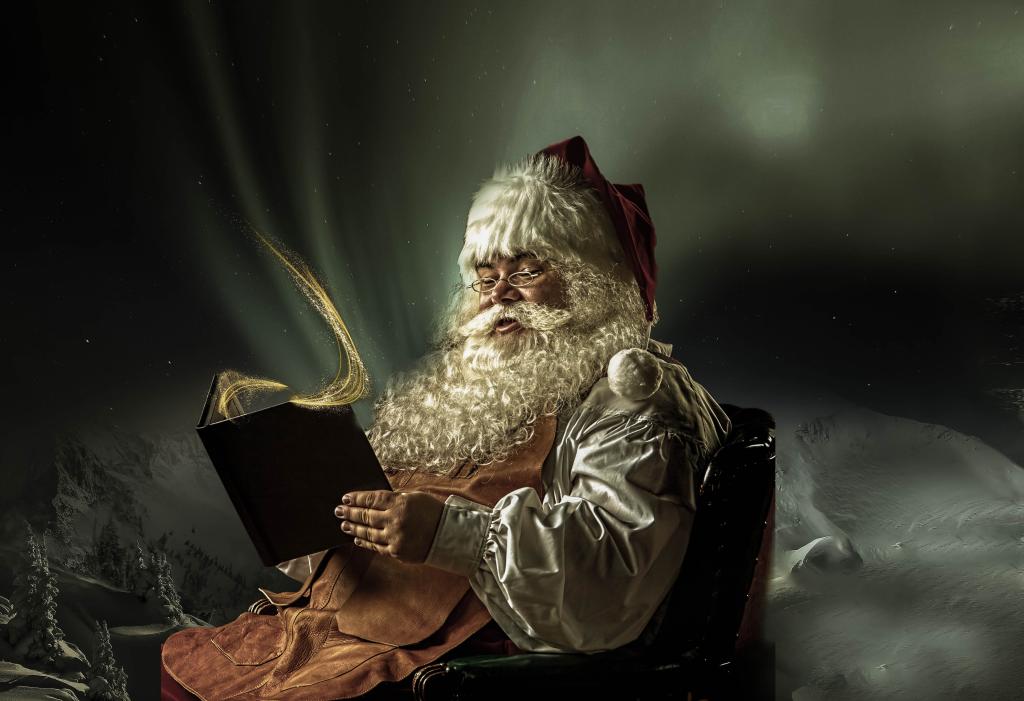 Keeping the myth alive
As far as the myths go, all through the month of December we'd hear tales about a winter wonderland far to the north where a fat bearded white man and an army of elves built handmade gifts for every child in the world that he magically delivered from sundown to sunup with the help of a herd of flying reindeer.
On Christmas Eve, since we didn't have the benefit of tracking Santa's movement by NORAD, we'd gaze for hours out our living room window and imagine that the blinking lights in the distant sky were Santa and his reindeer looking for the next roof to land on. I'd later surmise that the blinking lights came from the planes taking off from Honolulu International Airport.
On the evening I was to meet Santa, we drove to the other side of the island and pulled into the parking lot shortly before sunset at the beachside park in Kaneohe. Families with rambunctious children were already invading the dinky community center, which was just a one-story cement block building surrounded by kiawe trees not far from the shoreline. After walking through the front door, I was bombarded by boisterous screams ricocheting off the linoleum floor and the brick walls by kids who stood in line waiting for their chance to sit on Santa's lap.
I recall thinking how the enchanting feelings I once felt by believing in the magic of Christmas was being inexplicably taken from me.
This was terrifying, and reminiscent of how my belief in the fabled origins of the Easter bunny and the tooth fairy were also taken from my psyche with little more than a dose of truth. Yet, it was also exhilarating, because I could sense that I was growing up, as if my understanding of life was becoming more grounded and factually based.
Suddenly, I was at the front of the line, and it was my time to sit on Santa's lap. (Kids did this back in the old days. They sat on Santa's lap. This was long before parents began suspecting that every itinerant Santa possessed a sinister motive for being around children.)
But you can relax because this is not that kind of a story.
Santa grimaced under my weight as I hopped on his knee. I probably weighted 65 pounds. He seemed confused. Me too. His beard was fake. I could see one of the straps holding up his synthetic, snow-white beard. Nor was this Santa from somewhere icy in the far north. He wasn't even white. Rather, he looked to be Hawaiian or Samoan.
Santa told me I was too old to believe in him
"Do you believe in Santa?" He asked in pidgin English.
I replied nervously not wanting to hurt his feelings, "Yes."
"You're too old to believe in Santa." He said with a straight face.
At this point I felt betrayed. Not because I'd been taught from birth to believe in this guy with the red suit, but because I'd been raised to not hurt people's feelings. If he believed he was Santa, why should I be the one to shatter his delusions? On the other hand, as a man impersonating Santa Clause, he should have recognized his words caused me a lot of emotional trauma!
I still celebrate Christmas. For Christians the day represents the birthday of their Lord Jesus Christ. In actuality, the origins and traditions of this holiday embrace an amalgamation of many religious and pagan rituals. As for myself—and I suppose for many humanists—Christmas time provides a wonderful opportunity to strengthen the bonds between family members and friends.