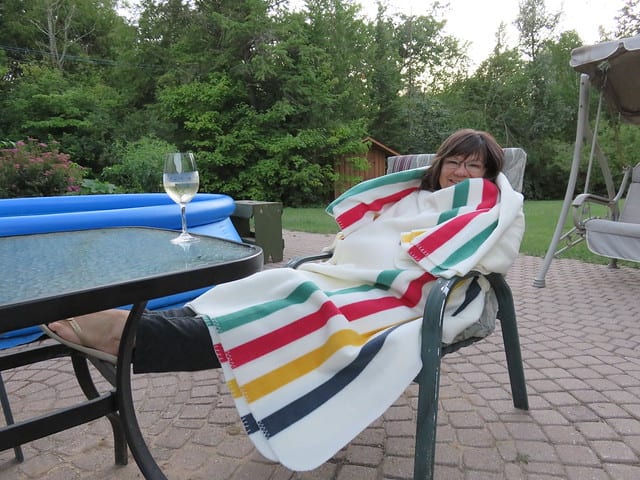 Wrapping Ourselves in Stillness
We sit still, breathe deeply, and listen, wrapping ourselves in stillness.
Some of us have a set of rules or regulations for our contemplative practices. We may believe we are not following a practice well unless we keep all the framework and structure in mind.
I know people who believe it is important to sit a certain way or put our feet and hands in particular places. Some of us pay attention to what time we pray or which direction we face. Other people are convinced we need to close our eyes or think only pleasant, edifying thoughts.
It is as if we do not want to be contemplative in the wrong ways.
Other people seem to have challenging times finding sacred stillness. They apparently believe they need to sit still and not allow thoughts or distractions to enter their hearts or minds. It almost feels like they believe they need to earn stillness, to draw it into their lives and hold it there.
My attitude toward contemplative spirituality is different. I believe sacred stillness is always with us, within us and in the world around us, like a familiar blanket. Our contemplative practices are our ways of wrapping ourselves in stillness.
Our lives are filled with stress and distractions, hard work and difficult challenges. Every so often we need to sit down and rest a little, wrapped up in our familiar blankets of stillness.
Many of us live in a time right now when we need more stillness. The challenges we face seem to get more difficult and more intense as time goes on. We could use some stillness.
How do we choose to practice listening to sacred stillness? Do we prefer to follow a set of rules, or simply begin wrapping ourselves in stillness?
How Do We Begin Wrapping Ourselves in Stillness?
The first step in our practice is making sure we have all the essential equipment we need. Fortunately, this practice does not require many accessories.
Some of us may be more comfortable if we have a good chair in which to sit or a scheduled time to practice. I appreciate there may be things which help us, but they are not essential equipment. Many of us have practiced listening to sacred stillness well without the right chair or an organized schedule.
The first thing we need is a willingness to listen. It is not what I would call perseverance or persistence or even stubbornness. We need to remember we are not trying to force spiritual life or sacred stillness to pay attention to us.
Our practice is simply wrapping ourselves in stillness.
We do not even need to find a quiet place or a convenient time to listen. I have practiced listening to sacred stillness in crowded waiting rooms surrounded by other people.
It is not necessary for us to learn complicated methods of listening steeped in deep theological truths. Some of us find it helpful to understand how to listen and how the way we understand listening has developed over time.
The only essential part of our practice is being willing and open to listening.
When we sit and listen to sacred stillness we are wrapping ourselves in stillness. Often we find we are not even wrapping ourselves, but sacred stillness wraps itself around us.
The most challenging part of our contemplative practice is to be willing and open to listening.
We might like to have the answers to all our questions all sorted out before we begin, but that is not essential.
We may struggle to understand, then find ourselves wrapped in stillness.
Are We Wrapping Ourselves in Stillness?
Many of us have had disturbing or painful experiences with spiritual institutions. Our experiences, and the memories and feelings we have from them, make it difficult for us to trust spiritual life.
Some of us would welcome being wrapped in sacred stillness, but we have been hurt or abused in the past. We might be unwilling to accept anything which is beyond our ability to immediately understand it.
Listening to sacred stillness may not make sense to us the first time we hear about it. Wrapping ourselves in stillness might sound intimidating or overwhelming. We could be afraid to experience it.
Others of us find ourselves too busy, too preoccupied, too distracted to begin a contemplative practice. It may not be the right time for us to begin listening to stillness.
It took me a long time to be ready to become willing and open to listening.
Sacred stillness will not force itself on us. There is no sense of urgency pushing us. We should not allow ourselves to be manipulated emotionally or intellectually.
Contemplative practices are about exploring spiritual life around us and within us.
Are we willing to be open to truths we discover in the world?
Settling In and Wrapping Ourselves in Stillness
I experience listening to sacred stillness as a relief from the pressures and stresses of everyday life.
Our contemplative practices are not the same things as sleeping in or taking an afternoon nap. It is not a form of slumber or imposing quiet.
When we practice listening to sacred stillness we are setting aside the thoughts and feelings which distract us. Our minds and hearts become cluttered with the detritus of everyday life, and listening to stillness clears them.
It is as if the world is filled with distractions and entertainments, and stillness helps us remember. We need help paying attention to what is essential, what is central, what is crucial. Wrapping ourselves in stillness allows us to release our grip on what is not important and pay attention to what is.
We sit still, breathing deeply, with our eyes closed, and sacred stillness is at work in us, transforming us.
The stillness works in us healing and changing us in ways which are beyond our understanding.
When will we be wrapping ourselves in stillness today?
How will we continue wrapping ourselves in stillness this week?
[Image by Kaarina Dillabough]
Greg Richardson is a spiritual life coach in Southern California. He has served as an assistant district attorney, an associate university professor, and is a lay Oblate with New Camaldoli Hermitage near Big Sur, California. Greg's website is StrategicMonk.com and his email address is StrategicMonk@gmail.com.