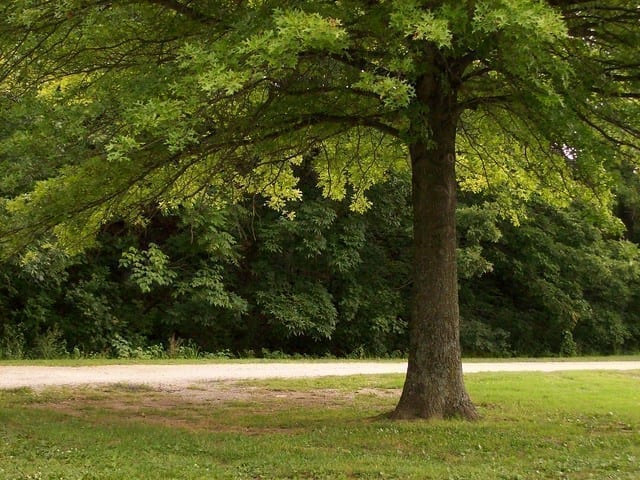 In the Shade of Trees We Did Not Plant
We live our lives walking in the shade of trees we did not plant.
I remember walking on summer evenings in the Midwest past houses with porches and yards with trees. Particular walks in specific places; by myself and with all those people, sharing our thoughts or our stillness.
Visiting New Camaldoli Hermitage reminds me my favorite walking companions are tall evergreen trees. Their straight, towering trunks reach up to the sky like church spires. They are like the pillars of great cathedrals, shading me from the sun's light and creating sacred space. My thoughts and reflections have room to become prayers.
Tall evergreens help me regain my perspective. They have been alive for hundreds of years.
There are tall trees in California which are among the oldest, longest living things on earth. They do not hurry. Through years of struggle and years of plenty, they continue doing what they sprouted to do.
We walk in the shade of trees we did not plant.
Whether they grew in the wild or someone planted them years ago, they transcend of our efforts.
It is a challenge for us to walk in the shade of trees we planted. We need to begin planting early and live long lives. Planting trees is not an enterprise of instant gratification.
I have walked with people who expressed their gratitude and appreciation for the people who planted trees. It does not strike me the people who plant trees expect us to thank them. They seem to me like a good combination of practicality and vision for the future.
What does it take to plant trees?
When was the last time we planted a tree knowing it was unlikely we would be able to walk in its shade?
Walking in the Shade of Trees We Did Not Plant
As we walk in the shade of trees we did not plant, my mind is often drawn to people who plant them. I begin to wonder what those people were like and what inspired them to plant trees they could never enjoy. Sometimes I remember the stories of Johnny Appleseed and others who supported the trees among which we walk.
One of my favorite books is The Man Who Planted Trees by Jean Giono. It tells the story of a man who began as a shepherd to plant a hundred acorns each day as he tended his sheep. He picked up the acorns as he walked, stored them in water, chose a hundred each evening, and planted them the next day. The book describes how his daily practice continued for over thirty years and transformed the countryside around him.
The people who plant trees are not necessarily motivated by a desire to create beautiful garden landscapes. Some of them want to transform the world around them, but others just enjoy trees.
Now I live in a place where people believe most trees have become domesticated. We see trees as more like pets than wild creatures. Some of us get so used to the trees around us we lose our sense of awe and delight about them.
It can be easy for us to forget planting trees is hard work which is only rewarded in the distant future.
We walk in the shade of trees we did not plant today because someone else planted them years ago. The question for us whether people years from now will walk in the shade of trees we planted.
The trees we plant are our legacy to the world and people of tomorrow.
Enjoying the Shade of Trees We Did Not Plant
Tall trees show me things and teach me lessons other people cannot. Spending time in the shade of trees we did not plant persuades us. Their example, their patience, their wisdom can create sacred space we need for listening.
Like listening to sacred stillness, walking with tall trees helps us hear something more.
Sometimes we become tired, frustrated, unwilling to listen any more, even to ourselves. The healing spiritual life of trees brings us back to who we are.
Like some people, trees connect themselves with us and with each other. Something attracts us to some trees beyond the physical. We are not drawn to them just because of how they look or feel or smell.
Some trees are perfect for sitting under or even leaning against. There are trees, though it has been a while, which seem to be made for climbing.
There are trees I could stand or sit and watch for hours. They seem to have different emotions in various kinds of weather.
It is true other landscapes have their own spiritual life, like deserts or beaches or mountains. There is just something about walking in the shade of trees.
Remembering the Shade of Trees We Did Not Plant
Many of us are spending less time in the shade of trees than we were before the pandemic.
It is more of a challenge to take a walk than it used to be. Some of us have a harder time getting up from our comfortable chairs or welcoming beds. We only leave the house for specific appointments or to get something to eat.
Part of our appreciation of the trees in our lives is to practice remembering what trees have given us. We need to take time, when we can, to look up into the branches of the trees around us. These are trees we did not plant, they are not gifts we have given ourselves. We hold these trees in trust for the future.
We take time to remember them, to appreciate their shade and the lessons they have taught us.
These trees help teach us how to listen, how to wait, how to protect each other.
We remember the shade of trees we did not plant.
How will we appreciate walking in the shade of trees we did not plant today?
When will we practice remembering the shade of trees we did not plant this week?
[Image by friggy_30]
Greg Richardson is a spiritual director in Southern California. He has served as an assistant district attorney, an associate university professor, and is a lay Oblate with New Camaldoli Hermitage near Big Sur, California. Greg's website is StrategicMonk.com and his email address is StrategicMonk@gmail.com.