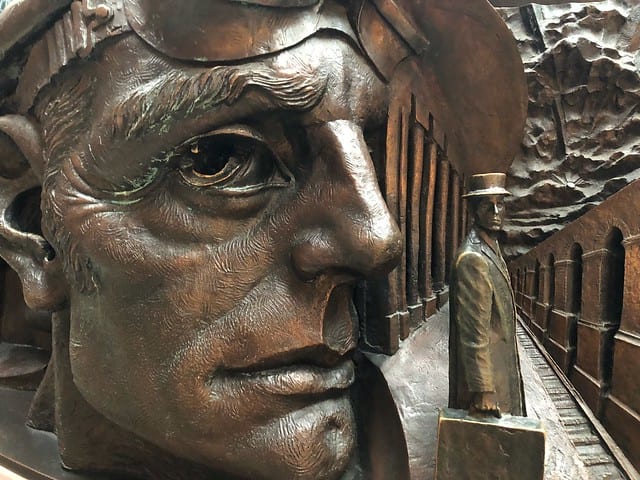 Watching and Waiting
Watching and waiting are not activities we particularly enjoy.
Part of it is because we live in a culture addicted to instant gratification. The allure of getting what we want when we want it seduces me as much as anyone else.
There is also an expectation we should be able to exert some control over our lives. We work hard to gain the money and the power which give us opportunities to make our own decisions. There are voices in our heads which tell us we should be able to figure this out, to make this work. Why is this taking us so long?
These and other expectations persuade us watching and waiting are experiences to be endured. Some of us depend on work or books or our phones to make sure we never need to spend any time waiting.
We try to avoid watching and waiting for the shortest periods of time, for our least significant concerns. Some of us do not even wait for appliances like toasters or microwave ovens. We will go to great lengths so we do not need to wait on hold for someone else to answer the phone.
I know drivers who have difficulty waiting for other people to walk across the street.
It is a challenge for us to wait for what we see as more significant and more urgent. Many of us are waiting for an opportunity to receive the coronavirus vaccine. We wait for an appointment and, when we have one, we wait for it to arrive.
Getting a vaccination seems more urgent, more significant to us than waiting for a cup of coffee or some toast. Waiting makes us feel anxious, as if there is something wrong.
What does our watching and waiting show us about ourselves?
A Practice of Watching and Waiting
I am not now, and have never been, the most patient person. Much of my work life has been organized around finding ways to avoid watching and waiting, by motivating others to act.
My life was more frenetic than contemplative. I did not necessarily recognize being contemplative as a positive trait.
Discovering more contemplative spirituality and beginning to put it into practice has helped change me. I have learned new ways to listen, and began to hear things in new ways. Listening to sacred stillness is no longer a metaphor or an oxymoron for me.
When we spend our lives pushed around by our fears and anxieties, struggling not to watch or wait, we are not listening. We allow entertainments and other distractions to stop us from paying attention.
One of the most significant lessons I have learned from contemplative spirituality is to listen, to watch and wait.
I was in such a hurry to move on to the next thing, to face the next urgent challenge. Listening and watching and waiting shows me there is no need to rush into whatever comes next. We neither need to live in the past nor push our way into the future.
Contemplative life is lived in the present moment.
We can build a regular practice of taking time to sit still and pay attention. Closing our eyes, sitting comfortably, and taking deep breaths can help us take time. When we read we can be open and attentive to the words we are reading. As we walk we can pay attention to the people and trees and situations around us.
When we practice watching and waiting we begin to notice things which have eluded us. Each moment is filled with experiences which fuel our practice.
As We Are Watching and Waiting
As we spend time watching and waiting we experience the beauty which surrounds us and which lives within us.
Our lives are filled with ways we can pay attention and share ourselves with the people around us. When we begin watching and waiting we start to notice and pay attention. Our contemplative practices are all about becoming aware of how we share spiritual life with other people.
Not everyone will respond positively as we try to share. Some people will not be watching and waiting. There will be people who are anxious or afraid. Our practices are not about accomplishing particular goals, but about learning to be open.
Each time we demonstrate we are watching and waiting we gain insights and new questions about ourselves. Spiritual life lives in us. Together we explore and discover new, deeper truths.
When we practice watching and waiting we begin to recognize ourselves in new ways. We see ourselves reflected in the people, the world, around us and we smile in recognition.
Our practices of listening and watching and waiting show us how to allow spiritual life to live and work in us.
We take time to pay attention.
Watching and Waiting and Listening
We practice watching and waiting with open hands.
Our fists are not clenched, tightly holding what we believe we will see or hear. Watching and listening are practices of being open and receptive to what spiritual life has for us.
We are not watching for the gifts we want to receive, listening for the words we want to hear. Our relationship with spiritual life is a friendship. We are not customers who submit our requests and wait for spiritual life to grant our wishes.
As we sit still, breathing deeply, we find ourselves relaxing into our contemplative practices. Open and listening, we watch and wait without expectations or demands.
Each time we practice we find ourselves drawn into the embrace of spiritual life. We are not required to do anything other than listen and wait and watch, paying attention.
Spiritual life is alive and at work in us, freeing us from the fears and anxieties which have held us in the past.
We take time in the present moment, free of the restraints of the past and the future.
What are we watching and waiting for today?
When will we take time to practice watching and waiting this week?
[Image by Steve Nimmons | Exposure Triangle]
Greg Richardson is a spiritual director in Southern California. He has served as an assistant district attorney, an associate university professor, and is a lay Oblate with New Camaldoli Hermitage near Big Sur, California. Greg's website is StrategicMonk.com and his email address is StrategicMonk@gmail.com.