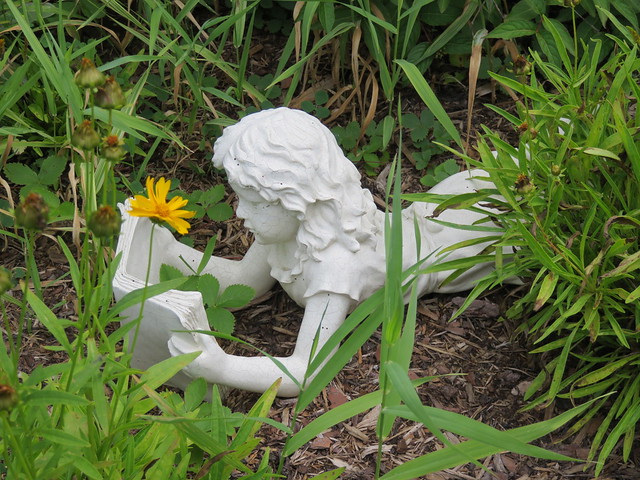 Pilgrims in a Public Garden
One of the places my neighborhood pilgrimages take me is wandering in a public garden.
I am fortunate to live in a place where we can wander in a public garden during daylight hours all year long. The garden where my pilgrimages take me most often exists as a refuge for native fauna. It has a meadow as well as citrus, olive, and pine trees. There is a labyrinth, an amphitheater, and a formal terrace. Volunteers do much of the gardening work.
Visitors, including pilgrims, are encouraged to follow the paths.
This particular garden is a good place for taking a pilgrimage. I appreciate visiting during the week, as early in the day as I can.
Our pilgrimage is not merely a way to spend time peacefully. We are not here simply to relax or take a break.
Being good pilgrims does mean taking our time and paying attention. The space and freedom of this garden make it tempting for some people to walk briskly and exercise their way through the experience.
Our work as pilgrims is different.
It is not enough for us to notice what has changed since the last time we visited. We are not in a public garden to appreciate all the work which has been done. Our focus is deeper.
We are not listening to overhear other people's conversations. Our task as pilgrims is to pay attention to spiritual life in the garden. We listen to the sacred stillness which surrounds and infuses the sounds we hear.
Our attention is on how the flowers and butterflies, the trees and other wildlife point to spiritual truths.
Which aspect of our pilgrimage in a public garden draws our attention? Where do we find spiritual life waiting for us?
How do we start?
Spiritual Life in a Public Garden
I find it helpful to begin my pilgrimages in a public garden with a little stillness.
My walk to the garden often includes traffic and other noises. Walking to the garden I cross several significant streets and some commuter train tracks. Once I am past all that there are a few blocks to walk to the garden, which helps me slow down and be quiet.
Sometimes I sit down when arriving at the garden so I can listen to the stillness. After a few minutes I am able to walk around slowly and pay attention to what crosses my path.
For example, evergreen trees often remind me of cathedral spires. I reflect on them pointing to the stars. Also, I love the way they smell.
I remember the times I visited the arboretum where I went to school and walked in the tall evergreen trees.
The olive trees remind me of peace, and the people with whom I need to make peace again.
This particular public garden is designed to remind us where we are. There is both a Mediterranean and a Californian feeling here. The aroma of the pine trees and the citrus combine to make me feel at home.
My pilgrimages in a public garden are not intended to accomplish any specific goal. I try not to have an end in mind when I head into the garden.
The point is not to have a point. The goal is not to have a goal.
Our time in the garden is not about getting a job done. We are not keeping track or paying attention to that.
A pilgrimage in a public garden, or anywhere else, is a time to listen to spiritual life within us and all around us.
Where do we find spiritual life?
A Labyrinth in a Public Garden
Sooner or later each pilgrimage I make in this garden brings me to the labyrinth.
A labyrinth is not the same thing as a maze, not a puzzle to solve or a challenge to meet. Labyrinths are walking prayer practices which traditionally follow a pattern of three parts.
The first part is our journey inward. We start at the edge of the labyrinth and slowly, quietly make our way into it. It is a deliberate, contemplative process of taking one step at a time with time for breathing, listening, and being open.
The second part of the labyrinth is spending time at the center. We stand or sit at the labyrinth's center to listen to sacred stillness until we are ready to leave.
The third part of our practice is our journey outward. We have listened and spent centered time and now return to a world which waits for us.
We may start on the edge of the labyrinth, but there is no beginning and no ending. Our journey brings us to the edge of the labyrinth and continues as we walk away.
Spiritual life is in the world around us.
Becoming Pilgrims in a Public Garden
We do not need to travel to historic places or remote shrines to become pilgrims.
Each of us is on a pilgrimage of our own. We choose what our next step will be and when we will take it.
Some of us need to take time to stop and rest. There are things we need to sort out for ourselves, questions and insights which require our reflection. It may be important for us to take time, breathe deeply, and listen before we take our next step.
Others of us need to stand up and begin to walk again. We may have needed to rest, needed to reflect when we sat down, but we have been sitting too long. Our next step requires us to stretch and put what we have sorted out into practice.
It might help us to find a public garden where we can explore this week. Once we choose our next step, the challenge is to take it.
We are pilgrims together. Each of us has insights and questions to share.
When can we begin a pilgrimage in a public garden today?
How can we become pilgrims in a public garden this week?
[Image by Kaarina Dillabough]
Greg Richardson is a spiritual director in Southern California. He is a recovering assistant district attorney and associate university professor, and is a lay Oblate with New Camaldoli Hermitage near Big Sur, California. Greg's website is StrategicMonk.com and his email address is StrategicMonk@gmail.com.