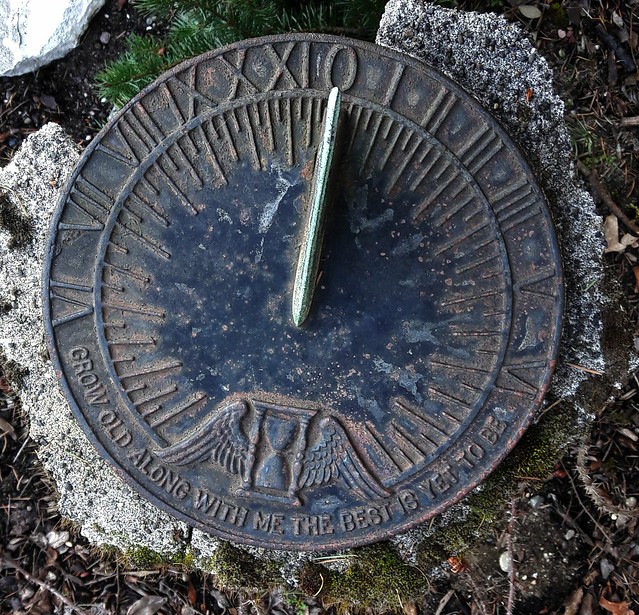 Are We Still Living in Ordinary Time?
It is a challenge for many of us these days to keep track of the regular passage of time. Part of it is how the pandemic has torn away some of our understanding of what is ordinary and what is not. We talk about finding a new normal, but some of us have not found it yet. Each week seems to bring new challenges and carry us further away from ordinary time.
Each of us has our own concept of what is ordinary, what is normal. We may look back nostalgically to an August while we were growing up, or when we were in school. Some of us felt normal when we lived in a certain place or worked at a particular job. We may look back to an ordinary time before we got divorced, or before someone we love died.
Some of us remember when ordinary time seemed to move less abruptly than it does now. We look back and remember a year or a day, or a single moment, which was ordinary time.
Now our times are not ordinary. Our times appear to be remarkably challenging, and grow more challenging each day.
Many of us fell time pushing us aside, out of the way. We sense we have had our opportunity to make a difference and now it is too late for us. Some of us believe we have missed our chance.
Others of us are convinced our time is yet to come. We are still preparing, getting ready to do our life's work. There is more for us to contribute, more for us to accomplish.
I believe spiritual life lives and waits for us in ordinary time. We may look for it on sacred occasions or in sacred spaces, but it is all around us in the ordinary.
Why is Ordinary Time Ordinary?
Liturgical churches divide each year into liturgical seasons. It is not enough for us to understand our beliefs intellectually. We need to experience and appreciate them deep within ourselves. This season, the season in which each year ends, is Ordinary Time. This year's Ordinary Time does not seem particularly ordinary.
Each new liturgical year begins with Advent, which starts in November a few weeks before Christmas. Advent helps us prepare for Christmas, which lasts 12 days until Epiphany. Epiphany takes us to Ash Wednesday at the beginning of Lent. Lent helps us prepare for Easter. After Easter comes Pentecost, and from the end of Pentecost to the beginning of Advent stretches Ordinary Time.
For me, each new liturgical year typically begins with enthusiasm. There are liturgical seasons, like Advent, I appreciate more than others. Much of the excitement of the bright, shiny new year has worn off by the time we get around to Ordinary Time.
The season is not called ordinary because it can feel a little long and boring. It is a series of counted weeks, like when we use ordinal numerals.
This liturgical year, like the calendar year, has been a challenging one. Many of us began the year with hope and expectation. We had a sense the most difficult parts of the pandemic and quarantine were behind us. Just as we anticipated being released from all our protections, new variants of the virus began spreading.
It is a challenge to follow this liturgical year. Our days and weeks and months are filled with concerns trying to attract our focus. The pandemic and the economic future, fires, storms, and other natural disasters all demand we pay attention. These are times of war, famine, pestilence, and death.
Our times hardly seem ordinary.
Ordinary People in Ordinary Time
Practicing Ordinary Time is about recognizing how we live each day one at a time. Whether our days are filled with extraordinary events or with long stretches of counting, each day brings its own value.
Some of us try to run or fly through our days, eager to get to the end. Others of us would rather drag the progress of our days to a halt and spend time in the past. Spiritual life draws us to live each day paying attention to each moment and savoring its beauty.
We may feel we have done what we can and cannot meet the challenge of another day. Spiritual life draws us to sit still and listen, rest, and allow each day to teach us its unique lessons.
This liturgical year has its share of days I would have preferred spending differently. I wish my time had run more smoothly. For many of us, this year has been an ongoing disruption which is helping transform how we experience ordinary time.
We are ordinary people living in ordinary time. Taking time for reflection helps us appreciate how to put what we believe into practice each day.
Gifts of Ordinary Time
Ordinary Time shows us, no matter how well we think we manage our time, it holds more than we thought.
As hard as we struggle to order our days, ordinary time gives us new questions and insights. The more we try to master our days, the more clearly they convince us they have more to offer us.
Some of the gifts of extraordinary time can be painful to open. We may discover them through loss. Some gifts require sacrifice or discipline to receive.
One of the greatest gifts of ordinary time is its ordinariness. Each ordinary moment of these ordinary days is an opportunity for us to pay attention.
Each gift will help us in the ordinary time which is ahead of us. The questions we ask and insights we gain today will guide us in the steps we take tomorrow and the day after.
Contemplation shows us how to apply what we recognize and appreciate each day. Our ordinary time is filled with opportunities to understand and practice what we believe in new ways.
How will we live in our ordinary time today?
Where will the gifts of ordinary time draw us to go this week?
[Image by Wonderlane]
Greg Richardson is a spiritual director in Southern California. He is a recovering assistant district attorney and associate university professor, and is a lay Oblate with New Camaldoli Hermitage near Big Sur, California. Greg's website is StrategicMonk.com and his email address is StrategicMonk@gmail.com.