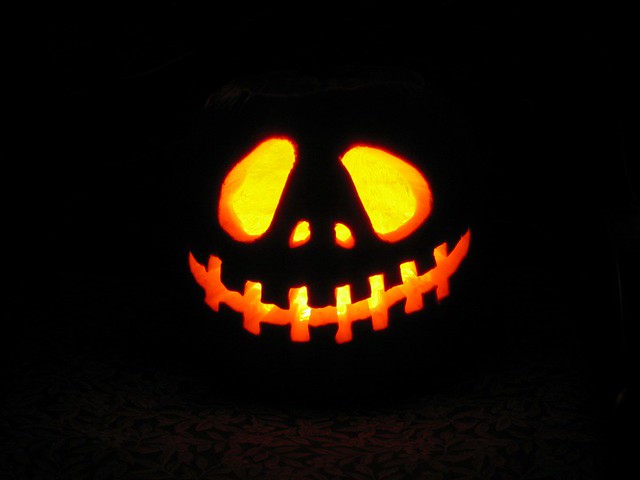 When Whatever We See Makes Us Afraid
Some of us are preparing to celebrate the aspects of our world which make us afraid.
We may choose a character and an appropriate costume, light candles, and head out into the dark. Some of us try to coat the more frightening parts of Halloween in candy, but it is all about being afraid.
There are treats and tricks as well as masks and costumes. The truths go deeper than that.
Halloween has strong cultural, historic, and spiritual roots entwined with some of our deepest fears. When I was a child, I understood Halloween as a day for collecting candy. As I grew up, I focused more on deciding what costume to wear and how best to celebrate. Some years there were parties, and some years I went to see scary movies.
None of these are the essence of Halloween. I was missing the point.
While Halloween may have a history which goes back beyond Christianity, it has been adapted by Christians. The night before All Hallow's Day, or All Hallow's Eve, is an opportunity to reflect on death and darkness and being afraid.
Halloween marks the end of the harvest and the beginning of the darkest part of the year. It is a day to remember the people who have gone before us, laying the foundation for our lives.
We take time to reflect on the parts of our lives which most frighten us.
Some of us carve scary faces on pumpkins or watch frightening movies. We might dress up as the people of whom we are most afraid, or who are most likely to frighten others.
We take one day each year trying to convince ourselves we can live with the things which we find most frightening.
Why do we celebrate what makes us afraid?
Living Where We Are Afraid
Some of us want to believe spiritual life is about becoming stronger and less afraid. We like to think our practices help us build spiritual abilities and help us feel fearless.
It is easy for us to assume we become less frightened as we grow in spiritual life. Like children who grow out of some of their fears, we see ourselves as more spiritually mature. We know there is nothing hiding in the dark and the costumes are merely dressing up.
I believe spiritual life is all about living where we are afraid.
We celebrate Halloween because we know we live in a frightening place. As we grow in spiritual wisdom and maturity we recognize our world is full of valid reasons to be afraid.
Spiritual life is not about living in constant fear and anxiety. It is also, though, not about being unrealistic.
Some of us are afraid because of remarkably real things we have already experienced. We live with the memories and the trauma which continue to haunt our present and our future. Even when we have moved on to find somewhere safer, we continue to live in a frightening place.
Others of us fear all the possible things which could go wrong. We live with expectations of disappointments and disasters we believe could befall us. Even when our fears are not based in our own experiences we still live where we are afraid.
Recognizing and understanding our fear requires us to spend time reflecting on it. We contemplate what makes us afraid and why. We share our stories with a trusted, listening friend who can help us see them clearly and learn their lessons.
We may live in a place where we are afraid but we do not need to live in fear.
Spiritual Life When We Are Afraid
Our contemplative practices help us become more open to spiritual life. We listen and reflect as spiritual life works within us to show us how to live in this fearful place we call home.
Spiritual life teaches us we do not need to live in fear even when whatever we see makes us afraid. We may be surrounded by challenges which frighten us, but we do not need to be immobilized by our fear.
We are not alone in any frightening place we face.
Each of us experiences our own fears and disappointments, our own loss and pain. Spiritual life is not designed to erase those or nullify them. Our fear and pain do not go away.
Spiritual life shows us who we are and who we can become. Rather than taking away what makes us afraid, spiritual life helps us appreciate the power and potential we have.
Spiritual life is more about healing than about keeping us from being fearful. It tells us not to run away from being afraid.
Growing in spiritual life helps us find our way in each frightening place we visit. We practice taking the next step even when we are frightened.
Celebrating in a Time When We Are Afraid
This week we will carve our pumpkins, light our candles, and put on our frightening costumes. Some of us will hand out treats to other people in frightening costumes.
Each of us will be celebrating our life in a time when we are afraid.
Some of us may be afraid because of how we have been abused in the past. Others of us are afraid because of who we love. For some of us a school or where we work makes us afraid.
The last year and a half has given many of us new reasons to be afraid. Our world may be a place of fear because we have lost someone we love.
We each experience our own personal fear and pain. This week we will each celebrate living in a time and place we are afraid in our own ways.
Some of us will light candles and some will put on masks. We might celebrate with tricks or treats.
We carve a picture of what makes us afraid on a pumpkin so the light of a candle can shine through.
How can we celebrate the lessons we have learned from what makes us afraid this week?
When will we take time today to reflect on why we are afraid?
[Image by Randy Son Of Robert]
Greg Richardson is a spiritual director in Southern California. He is a recovering assistant district attorney and associate university professor, and is a lay Oblate with New Camaldoli Hermitage near Big Sur, California. Greg's website is StrategicMonk.com and his email address is StrategicMonk@gmail.com.