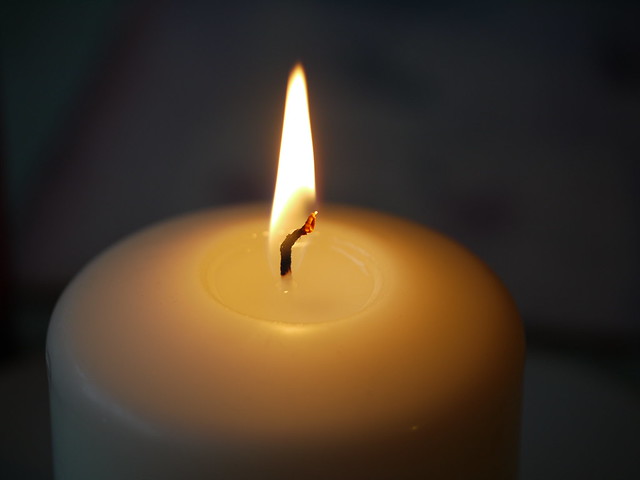 Practicing Centering Prayer for Lent
Centering prayer is one of my contemplative practices.
It is a form of prayer, and a way to learn how to become more open to the presence of the Holy. We understand God is always with us. When we seem to be far from God it is because we are distracting ourselves or getting in our own way. Centering prayer is prayer beyond the thoughts, words, or feelings which tend to draw our attention away. It is prayer of silent consent to God's presence and action in our lives.
One thing I appreciate the most about centering prayer is there are no rules. There are four guidelines, but the only way for us to make a mistake is not to spend time in it.
Centering prayer is a way for us to leave behind the clutter of expectations and requirements which get in our way. We can let go of our own, conscious and unconscious, assumptions about what God is like and what prayer should be. Taking deep breaths, we release the tensions which demands our attention, and let the stresses of the world go past. We are able to rest in the stillness and solitude, and stop getting in our own way.
It helps us remember and practice what we believe to be true; remember and be what we intend.
In some ways. it is like relating to another person. As we get to know each other more intimately, we do not need to speak. We become able to know each other beyond words.
This season of Lent is an excellent opportunity for us to begin, or develop, a centering prayer practice.
We sit still, close our eyes, take a deep breath, and practice listening and staying out of our own way.
What Do We Mean When We Talk About Spiritual Practices?
I did not grow up familiar with the idea of spiritual practices.
My understanding of practice was based in practicing a sport and practicing a musical instrument. For me, the idea of practice was spending long periods of time on boring repetition while I struggled to learn how to do something.
I was not particularly interested in practicing. My attention was focused on playing.
Even now I prefer playing to practicing. I understand we need to practice some things so we can understand how they work for us and how we can do them well.
It makes me think about those acrobats and aerialists who practice working on the trapeze. They work their way up the ladder, going higher and higher above the spectators and the rest of the circus. It is important to learn with the safety of nets and harnesses.
I am sure, though, the people practicing never lose sight of their primary goal. They need to be safe, but what motivates them is the moment they let go of the trapeze and fly through the air.
It is not about working and practicing to become good at practice. We practice so we will be able to fly through the air.
Our spiritual practices work the same. Some of us seem motivated to become good at practicing. I do not believe spiritual life inspires us to be the best practitioners we can be.
Spiritual life wants us to experience flying through the air to the next trapeze.
We are not practicing so we become as good at practicing as we can be. Our practices are about playing.
Those of us who practice centering prayer for Lent are preparing to let go, to fly through the air.
Are we ready to play?
Is Centering Prayer Practicing Us for Lent?
It is confusing for me when people talk about the practices they are doing for Lent. My experience is different.
Yes, there are times when we need to pay attention and be disciplined, making sure we meet our commitments. I do not experience, though, spiritual practices as commitments we need to keep or responsibilities we need to meet.
Spiritual practices are not burdens we need to carry around or squeeze into our schedules. They are not things we are required to do, but things we get to do.
If you decided to adopt a spiritual practice for Lent and you do not want to do it, then stop. Spiritual life is not about forcing us to do things we do not want to do.
We want to find the ways, and the times, our practices are practicing us for Lent.
It is essential to our spiritual health for us to have a clear understanding and appreciation for our practices.
We are not being forced into anything.
Sharing Our Practices With Other People
We are not compelled to share the details of our practices even while encouraging and praying for each other. It is enough for us to know we each intend to practice.
One of the most attractive and supportive aspects of a contemplative practice of Lent is having a network. Even though I may not know any details, I know I am part of a large network of contemplative practice.
Several months ago a friend of mine, another spiritual director, and I began an online centering prayer group which meets each week. We create space in the midst of all the confusion and noise online where we can find some stillness.
We think our Zoom community can be a helpful way for people to explore this intimidating liturgical season.
It is not about trying to force anyone into anything or convince anyone. We come together online, settle into stillness, and each bring our questions and insights about spiritual practices. It is a way for us to experience being together online.
We meet on Zoom each Wednesday from 3:00 to 4:00 PM Pacific time, and began on Ash Wednesday, February 22. Let me know if you are interested. Bring your questions.
Join us as we fly through the air to the next trapeze.
How can we begin to appreciate what Lent is all about today?
What contemplative practice will begin in us this week?
[Image by Smabs Sputzer (1956-2017)]
Greg Richardson is a spiritual director in Southern California. He is a recovering assistant district attorney and associate university professor, and is a lay Oblate with New Camaldoli Hermitage near Big Sur, California. Greg's email address is StrategicMonk@gmail.com.