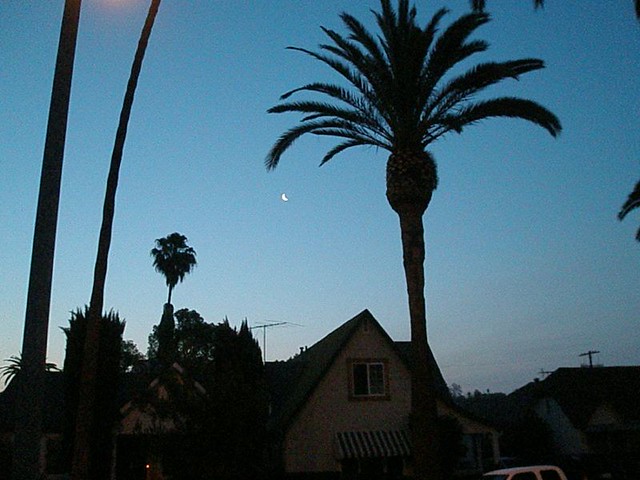 April Morning Stillness
I walk out the door just before dawn breaks in on April morning stillness.
It is a fresh spring morning, and the day stretches before me full of potential adventures. There are a few tasks I hope to complete this morning, and I am taking some time for walking and reflecting. My practice of walking around the neighborhood, on its best days, is a contemplative way to pay unfocused attention.
The sidewalks are not empty this morning. Most of the people I see as I begin today's walk seem to be on their way to work. There are a few cars on the streets, but I think I am ahead of most of the traffic.
People seem to be more contemplative than they used to be, but it might be my early timing. Some people make eye contact, but it can be a challenge to know whether they are smiling.
There are few opportunities to go somewhere to sit down for coffee and breakfast. That might keep me moving and help me make better progress.
The first part of my trip this morning takes me through a transit train station. I need to wait for a train to pull in, stop, and continue on its route. People in the train's windows are preoccupied, looking at their phones.
On this part of my journey I need to wait to cross several streets and the train tracks. The sun is rising in the sky and the April morning stillness is slowly beginning to come alive.
Spiritual life shows me what I need to see in the April morning stillness. The streets I walk are filled with people working to make a living, and with people living in doorways and on sidewalks.
Walking in Stillness
Each step we take in this April morning stillness reveals new insights and new questions for our reflection.
This is a good neighborhood in which to take regular walks. It is filled with tantalizing sights, sounds, and aromas.
I walk past places roasting and grinding their own coffee beans, and restaurants preparing delicious meals. There is a hospital within walking distance, and the sound of helicopters often joins birdsong. My pilgrimages take me past parks and florists and a public garden, full of the aroma of flowers.
As I walk I often see people, and hear languages, from around the world. I look forward to more places opening each morning.
Walking around on an April morning, I can see how "winter" has affected us. We have had a rainy few months, not a winter like the ones in which I was raised.
It is good for us to get as much rain as we can here, and it has helped restore our water reserves. There will soon be a time when we will not expect any more rain until November. There may be a shower or two over the summer, but not real rain.
Wildflowers will soon be blooming in abundance.
Walking on this April morning is a good balance between getting things done and paying contemplative attention. I can take my time and practice being open to things around me and still check things off my list.
I am eager to develop a regular practice of neighborhood walking again. This is a good neighborhood to explore. While walking around and paying attention I discover new places to begin reflecting.
On this April morning the sun shines and my steps take me from one question to the next.
Each part of my path opens my eyes to new insights.
Exploring an April Morning
This April morning is my most recent exploration, but I remember voyages of discovery stretching back through the years.
I rambled through the woods near the house where I grew up. In college and grad school I took neighborhood walks exploring Wisconsin towns. Each place where I lived I have found ways and taken time to walk and explore.
Walking my neighborhoods in Wisconsin, northern Virginia, and Chicago also gave me times of reflection. Each location had its opportunities to explore and discover, walk and pay attention, reflect and listen.
We do not need to travel to distant places or historic sites for our pilgrimages. Each of us is a pilgrim in our own neighborhood.
This April morning reminds us how much there is to contemplate. My neighborhood is filled with people and places which attract my attention and raise questions for me.
Please take an April morning journey of your own sometime this month. Explore your neighborhood and see what you discover.
We pay attention to the sounds we hear, the aromas we smell, the people we meet. Each step on our pilgrimage holds wonders and insights for us to discover and explore.
Enjoying an April Morning
We each walk through our neighborhoods on a pilgrimage. Taking time on this April morning, we give ourselves permission to listen and pay attention.
All the bits and pieces we collected along the way, while we were not paying attention, begin to fall into place. Everything we thought we could not force into fitting together sort themselves out.
On this April morning we give ourselves and the world around us opportunities to find balance and settle down. Our walk is a way for us to realize we are not in control. We cannot make every decision or solve every problem.
It is our opportunity to pay attention to the flowers growing in the sidewalk as well as those in the florist shop.
Each step, each aroma, each door, each bite is part of our neighborhood pilgrimage. We breathe in and out, listening and paying attention, walking and reflecting.
Exploring and discovering, we begin to recognize where we are going.
The joy of our neighborhood exploration on an April morning saturates the rest of our day.
Where will our April morning stillness take us today?
What will we discover in the April morning stillness this week?
[Image by Anika Malone]
Greg Richardson is a spiritual director in Southern California. He is a recovering assistant district attorney and associate university professor, and is a lay Oblate with New Camaldoli Hermitage near Big Sur, California. Greg's email address is StrategicMonk@gmail.com.