I started writing Surprising Faith about a month ago here on Patheos, but I've been thinking about it ever since I saw an NFL prayer circle on TV. Watching Russell Wilson take a knee with a Green Bay Packer post-game warmed my heart—somewhat embarrassingly so.
I have a soft spot for Christians who surprise me: people who are brave enough to share their faith with colleagues who disagree, who have a vision for a creative monument to God and love, who are inspired to fight for their rights and those of others, or who give away almost all of their time and money.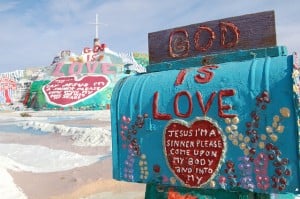 Whether or not I agree with them, these folks inspire me. They do things their own way, often at great cost to themselves. For example, Leonard Knight spends his free time—scratch that, almost all his time—painting an adobe mountain he built himself (while living in a car). Reverend Terri Stewart founded a chaplaincy for youth in prison—the first Protestant chaplaincy for incarcerated youth in Seattle. My minister, John Helmiere, is suing the city of Seattle to draw attention to police brutality and push back against the tidal wave of police violence against black men in America. Ben and Denise Charles give free food to anyone who comes by their parking lot in Olympia.
These things take time, energy, and money. They are done at risk to personal reputation and career. Providing food for hundreds of hungry people, drawing up a lawsuit when you don't really believe in the law, and adding layer upon layer to an adobe hilltop are all difficult things to do. They also, to many others, seem insane.
What all the surprising Christians I have come across have in common is the motivation to keep going when the world raises its eyebrows—or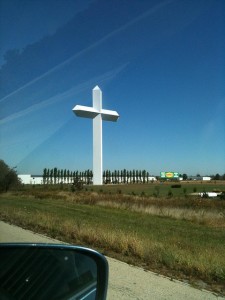 worse. It is difficult enough to do something hard when you have support—without support, it is nearly impossible (have you ever tried to stick to a diet or an exercise routine?).
That's where faith comes in. The people I profile find motivation to do seemingly crazy things in God—in particular, the Christian God, father of Jesus and related to the Holy Spirit. A being that is perhaps all around us or perhaps far away, but certainly invisible.
Now that I'm looking for it, this what I find: people whose creative spark comes from God. Although religion fuels plenty of ill-advised and downright dangerous actions, it is also the driving force behind many incredible projects. Inspired by verses in the Bible, advice from pastors, and a quiet voice, folks find the ability to create movements and monuments larger than themselves. That power, when used for good, is amazing.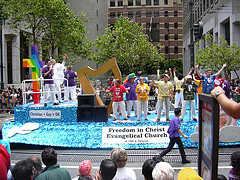 Looking inspiring undertakings inspired by Christianity has taught me that we don't have to look far to find good aspects of religion. You just have to look. A pastor once told me "You can find what you want to find" in the Bible. That's true of life, too. You can certainly find lobbyists, politicians, and activists motivated by God to work for terrible causes. But it only seems fair to look for the folks on the other side of the coin, who are fueled by faith to work modern-day miracles.