On Tuesday, as we turned in our ballots for the local and state elections here in Washington, it hit me that it's been a year. The realization brought a weird mixture of "how has it been a year already" meets "it's only been a year? feels like much longer!"
(Which also describes how I felt about 15 years of marriage to an abusive narcissist. Not really much of a surprise.  But I digress…)
Which means, one year ago on the 9th of November, I created the Power Sigil.  I then released it very shortly afterward here at Patheos and on Fine Art Witchery over at the Witches & Pagans blogosphere.  (Click on the Patheos link to read the whole story and for high res images).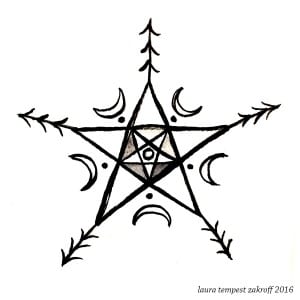 I made it because I needed to do SOMETHING.  All around me was a sense of hopelessness, despair, devastation, disbelief, and fear. The very city of Seattle itself seemed to be holding its breath – or trying to catch it after being sucker-punched, and the feeling was echoed around the country.
My most physical form of spellcraft is through the making of art, and I had spent the last several years perfecting my own sigil technique.  So drawing was the most logical thing I could do, and it felt potent.  The sigil flowed naturally and quickly. But I had no idea how people would respond to it.  I knew I felt relief and focus, and hoped it would do the same for others.  Symbols can help people focus and gather strength if they connect with them.
Well, there was indeed a connection. The two blog sites would collectively gather 50,000 hits in just a few days after I released the Power Sigil.  People I know – and many folks I have yet to meet – have had the sigil tattooed on their bodies.  It's made appearances on protest signs and flags, and been inscribed onto walls and into bar tables.  The Power Sigil has been lovingly stitched in fabric and carved and fired into ceramic dishes.  It's been the centerpiece of rituals and adorned vehicles and laptops. I've added a rainbow effect to it, printed stickers, patches, and shirts to help support #WeAreAradia and both national and local activist organizations fighting for people's rights. I've talked about it in Sigil Witchery workshops across the US – more people connecting with it.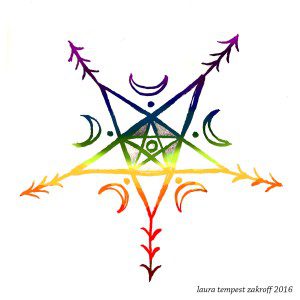 Today, while looking for paper to work on a piece for a magazine, I pulled out a random sketchpad.  There underneath the top page was the original Power Sigil that I painted one year ago, in black ink.  I must have tucked it away after scanning it in. It's a small thing, not even 3″ across – but it has become so much larger in so many ways.  I feel honored that so many people have been touched by it, have been able to use it, and have been inspired by it. Sometimes the simplest things can have immense power.  Never underestimate the little things.
I designed it with barbs – that protect those that would be harmed by small-minded hate and bigotry. The barbs have taken root and started their growth into trees. And as I think about some of the wonderful victories that happened over this past election – where bigotry was given the finger front and center – I know that the Power Sigil will keep on powering.  Because there's still so much more work to do and even harder roads ahead.  This sigil will continue to inspire, protect, and guide. Remember your own power – blessed be!