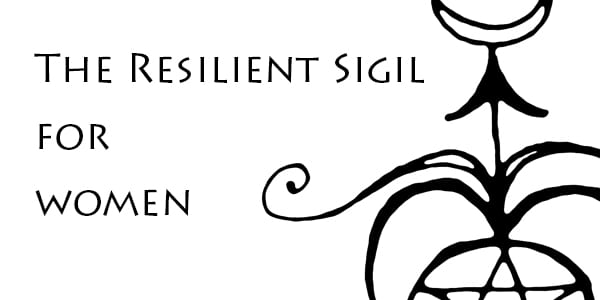 As today is International Women's Day, this seems an opportune day to release another tour sigil of shared magick – the Resilient Sigil for Women.  It was crafted on October 18th, 2018 at a packed to the gills Sigil Witchery workshop that took place at MagikCraft in Durham, North Carolina.  This was about halfway through the tour, and folks had been asking online for a sigil like this (especially as the Kavanaugh hearings were underway). But I find it really important that when we get to the sigil-crafting part of the workshop, that the suggestion for what we shall make is student-led as much as possible. That evening a student made the request for a sigil to protect, heal, and acknowledge all women in these times.  The class heartily agreed.
For those who may not understand how these kind of sigils are put together and/or are also quick to say "that looks like a veve for Erzulie" – the visual result is pretty much coincidental – a combination of the elements you can see on the workboard below.  (I talk about veves and sigils extensively in my book and always mention the similarities and differences in my workshops.) However considering Erzulie, what she embodies, and the message of this sigil, I might hazard to bet that she would be the first to get behind it – and perhaps was even present that evening.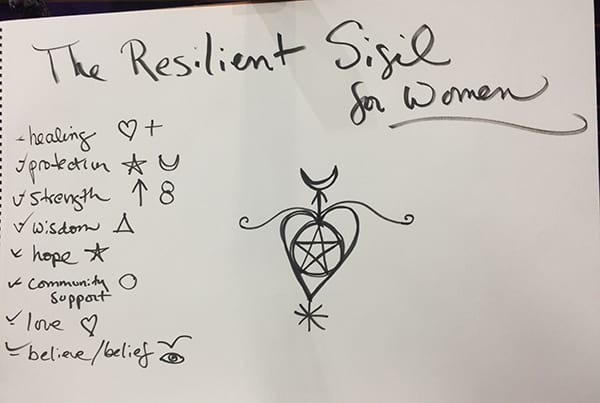 Built into this sigil:
-healing trauma
-protection for women
-strength to be resilient
-wisdom (of self and community)
-hope for change
-community support
-love (of self, of women)
-believe/belief (to believe women, to hold the belief of women's power in all of us).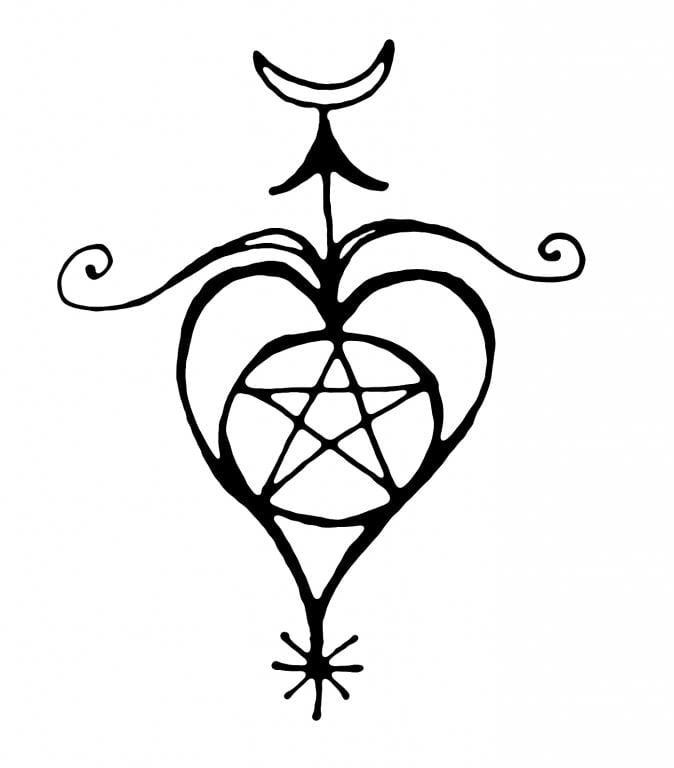 What to do with this sigil:
– You are welcome to use this sigil however you see fit that is in alignment with the intent of the sigil.  As long as it's not used for profit/commercially, you can wear it, share it, draw it in appropriate places, make signs of it, put it on candles, use it for blessings and other forms of protection,  draw it with essential oils on yourself, carve it on a bar of soap and wash with it, and so forth.  You  can use it to lend support to all women, bring more understanding, and focus power and strength to positive change.
It is protected by the Creative Commons License, details below:

The Resilient Sigil for Women by Laura Tempest Zakroff is licensed under a Creative Commons Attribution-NonCommercial 4.0 International License.
If you're interested in learning more about this method of sigil crafting, check out www.sigilwitchery.com or even better, check out the book I wrote on it – which is available via amazon, the previously mentioned website, and bookstores everywhere.  Support your local witch/indie bookstore whenever possible!