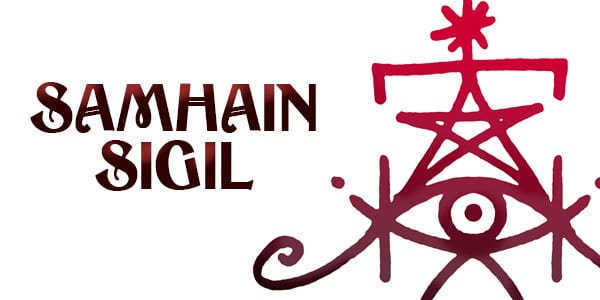 The Samhain Sigil was crafted last year during my workshop at Enchanted Earth in Dunedin, Florida.  Since I was on the road well past Samhain last year, I didn't process it to go onto the blog like many of the others that were created on that tour. So it was a delightful surprise when it showed up in my Facebook memories this week, because I had pretty much forgotten about it. I figure now is the perfect time to remedy that situation and share this lovely sigil with you. Just in time for Samhain workings!
This sigil was a neat one to do as it was designed to help with an upcoming Samhain ritual that the folks running the shop would be facilitating. It incorporates many elements that I think a lot of people would find useful and accessible for doing ancestor rituals as well as mediumship work this time of year. Used with focus and intention, this sigil can act as a responsible and conscious doorway that enables communication and connection during this time of the year.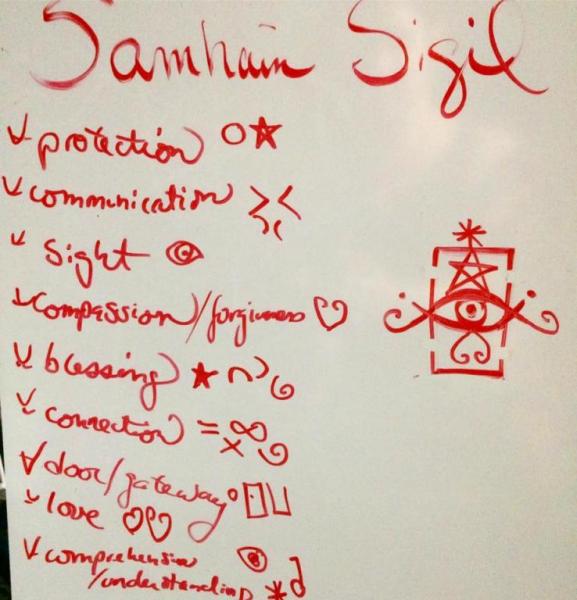 What's Built into this sigil:
-protection from unwanted/undesirable spirit/entities
-aid in communication with the other side
-enhance second sight/psychic abilities
-allow for compassion and forgiveness for those who have passed on
-blessing energy
-increase connection
-support a door/gateway between worlds/minds during ritual work
-based in love
-build/allow for comprehension and understanding messages that are given.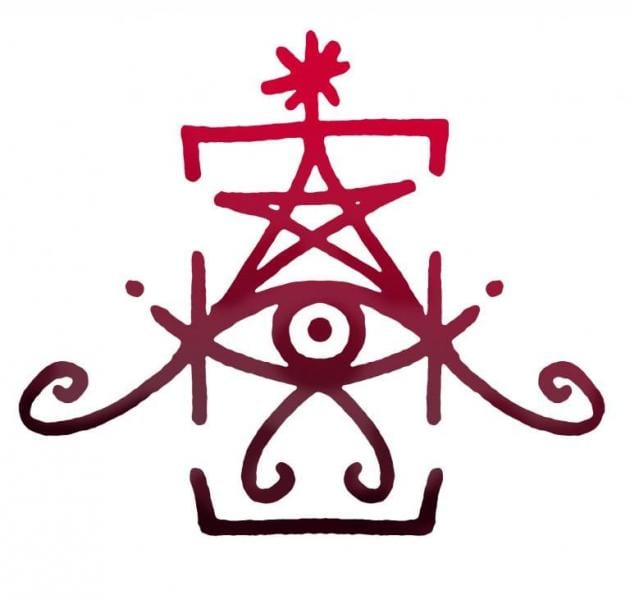 I really like that the workboard sigil was done in red, which seems really fitting (whether I was conscious of selecting it at the time or not) – so I decided to make the digital version also in red/fire tones, instead of just black.  You can of course make it in whatever color you feel works best for you.
What to do with this sigil:
– You are welcome to use this sigil personally for what you see fit that is ideally in alignment with the intent of the sigil.  As long as it's not used for profit/commercially, you can use it for your own rituals, draw it on a candle, place it on an altar, use it for protection while working with ancestors and other spirits, etc.  As you can see, it does have characteristics of a literal door or gateway, so this is likely not a sigil that you want to leave around all year round. It is definitely enhanced by incorporating it into temporary specific workings and opportunities.
And if you're in the Tampa Bay area, be sure to stop by Enchanted Earth and visit with the lovely folks there!  If you're wondering where we did the workshop (as it's a many-roomed labyrinth of a fascinated shop) – it was outdoors on the beautiful patio – because we had so many folks we couldn't fit inside!
The Samhain Sigil is protected by the Creative Commons License, details below:

Samhain Sigil by Laura Tempest Zakroff is licensed under a Creative Commons Attribution-NonCommercial-ShareAlike 4.0 International License.
If you're interested in learning more about this method of sigil crafting, check out www.sigilwitchery.com or even better, check out the book I wrote on it – which is available via amazon, the previously mentioned website, and bookstores everywhere.