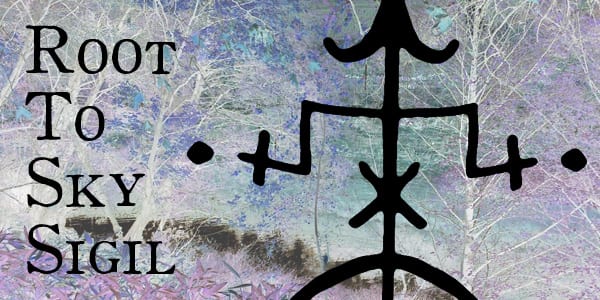 Sometimes you need a little magic that helps to aid a situation holistically – giving perspective from bottom to top and to keep that energy moving beyond the initial idea. This latest shared magic working – "The Root To Sky Sigil" comes from my recent teaching travels – in particularly the workshop I taught at Star + Splendor – a lovely shop in Voorheesville, NY – just outside of Albany.
On Tuesday, September 24th, over two dozen folks packed Star + Splendor's classroom to learn about Sigil Witchery. When it was time to collectively design a sigil, we had multiple suggestions that from the outside may have seem very different, they all fed into the zeitgeist of the moment.  And so we created a sigil to encompass them, crafting a unified effort that wove them all together.
Far too often, people will work magic to get an immediate short-term response or solution – which can certainly be effective, but may not solve the problem long-term.  The Root To Sky Sigil encompasses the necessity of putting energy into the root of a situation, so that the working may grow to address larger needs as it expands and resolves. The sigil helps to get folks involved at that critical root level, and keep that energy moving throughout the process – yielding more powerful long-term effects that benefit self, community, and beyond.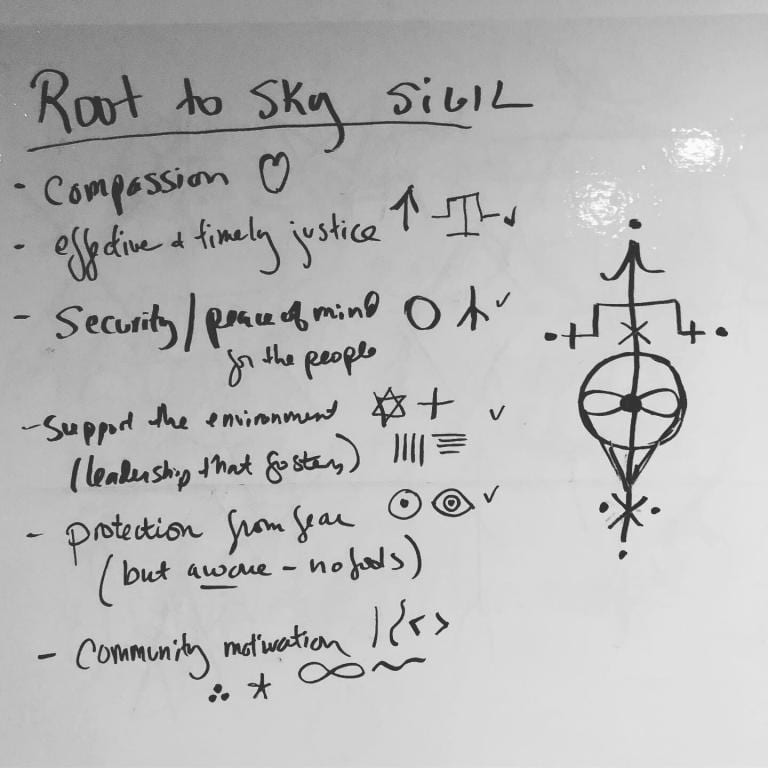 Built into this sigil: 
-Magnify/Increase Compassion
-Security/Peace of Mind for the People
-Support for the Environment – especially in emphasizing leadership that fosters care and awareness for it
-Protection from Fear (but also to be aware of what's happening – no fools)
-Engage/Sustain Community Motivation
-Effective & Timely Justice
What to do with this sigil:
This is definitely a sigil for sharing and group workings to support progress and positive growth in your local community and beyond.  Put it on candles, use it for meditation, draw it on the ground, project it, work it into legislation that effects your local community.  It helps to keep the flow going – with motivation, relevance, sense of peace, resolution, and security.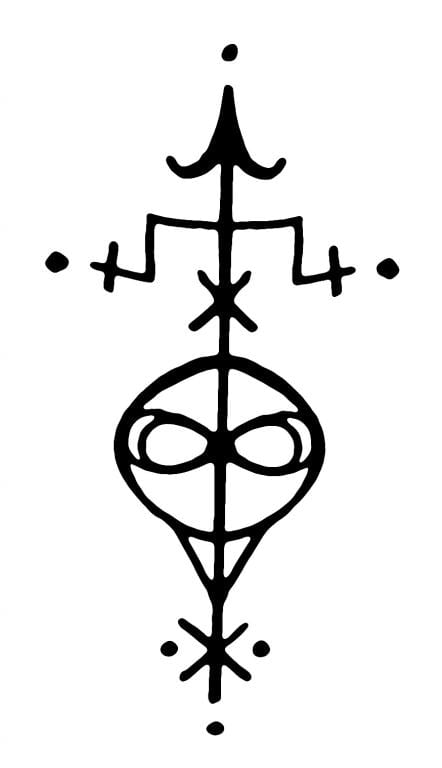 The Root To Sky Sigil by Laura Tempest Zakroff is licensed under a Creative Commons Attribution-NonCommercial 4.0 International License.
You can check out other shared magic sigils here.
If you're interested in learning more about this method of sigil crafting, check out www.sigilwitchery.com or even better, check out the book I wrote on it – which is available via the previously mentioned website, local bookstores everywhere, and the usual online sites.