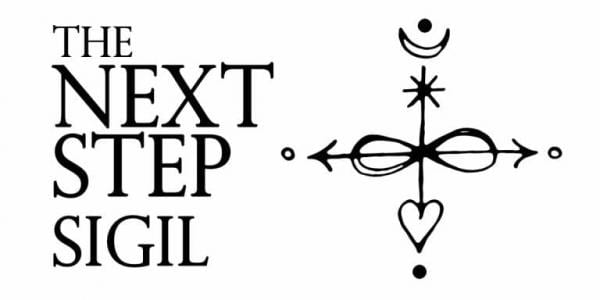 To bring about real and effective change, we can't only be focusing on what's happening in the present or what took place in the past – we have to consider what our next step into the future will be.  So PantheaCon 2020 was the perfect place to put the Sigil Witchery workshop attendees to the task of crafting a sigil to aid with that journey.
Take Heed of the Microcosm/Macrocosm
Now I've seen some grumblings around the Internet that seem to think that PCon* was a bubble unto itself (as in "don't bring that trouble to our event" mindset).  Sure, the event took place in California – known for its liberal and forward-thinking attitudes towards the environment, human rights, and creative ideas. But folks came from around the world to participate.  It was the largest indoor gathering of its kind, so when things happened (or didn't happen) there, the reverberations were indeed global, whether people find them personally applicable or not.They would bring back with them what they learned and experienced – even before the Internet was a major source of communication. They would also bring with them the ideas they wanted to discuss and exchange.   Maybe you might have consciously heard about those things more recently because of social media, but discussions about ethics, scholarship, consent, and other community concerns can be traced back not in just years but decades.  And many of these things are crucial issues we are facing as a society as whole.  It's foolhardy to think this is a great time to cosplay an ostrich – and think that what affects your neighbor won't affect you.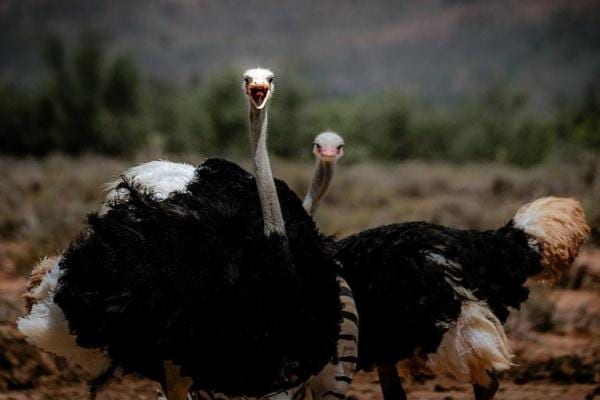 ALSO –  I don't think a lot of people realize just how young the Pagan/Pword community is.  I'm not talking the age of the people – I'm talking about the organizations, groups, shops, and events.  Sure, we look at the birth of modern Paganism and Wicca as dating to the late 1940's through the 60's, but most of the long-standing groups we know didn't get started until the 70's, 80's, or even the 90's.  And many of those only acquired 501c3 status or became landed with actual property in the last 20 years. Y'all, that is NOT a lot of time. Basically as a collective whole, we're still in the awkward teenager to freshly minted adult phase developmentally.  No wonder there's a lot of growing pains. There's really a lot more that can be said about that, but let's save that for another time and focus on this sigil.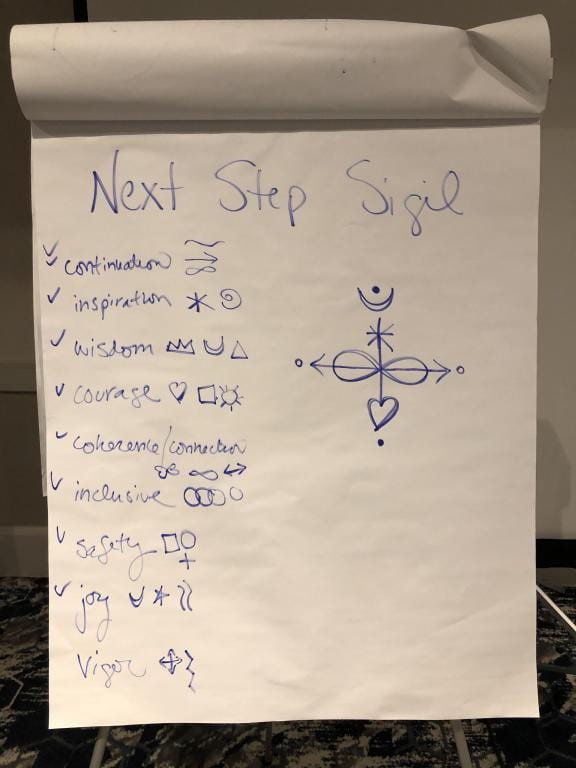 Making the Sigil
So a large roomful of people gathered at 9am in the morning.  In my preferred world view, magical discussion best happens after 10am.  11am is even better.  But nonetheless, we all persisted, even if we weren't all bright-eyed and pentacled. (I think a lot of folks came just on the promise that I'm even more punchy in the mornings, so colorful words would flow without the aid of being fully caffeinated.)  
While the talk of what may replace PantheaCon was a hot topic at the event, this sigil was designed for more than just one event – and that was made clear in the workshop to everyone.  It's for the community in all of its forms, throughout the world.  To help us grow with wisdom and strength past these metaphorical teen years, and to aid us with creating more inclusive concepts, events and groups.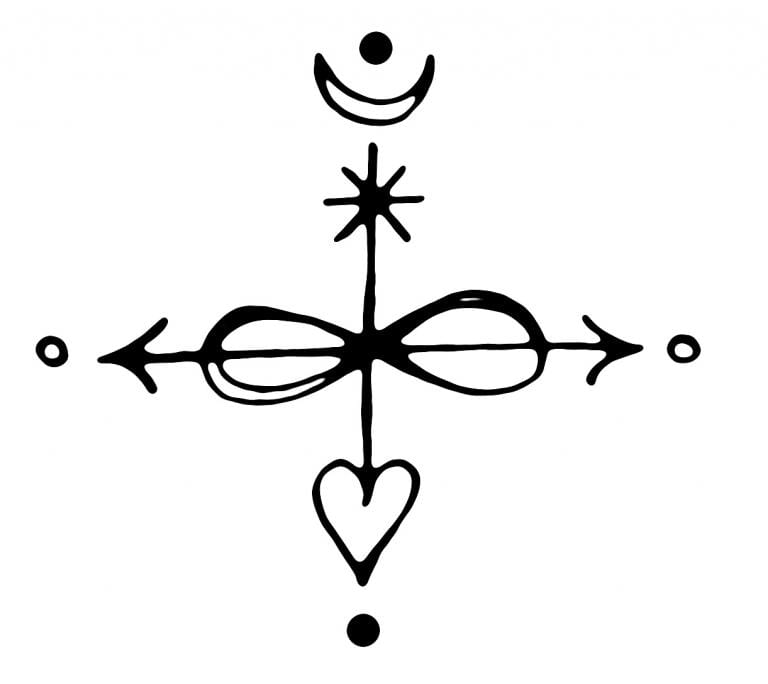 Built Into This Sigil
-Continuation (building on the best parts of what have been established, so we can collectively move forward)
-Inspiration
-Wisdom
-Courage
-Coherence and Connection
-Inclusive
-Safe & Safety
-Joy
-Vigor (to bring into the future)
How To Use This Sigil
This is a shared magic sigil. You are welcome to use this sigil however you see fit that is in alignment with the intent of the sigil.  As long as it's not used for profit/commercially, you can wear it, share it, use it for meditation for groups and committees, post it at events, etc.
It is protected by the Creative Commons License, details below:

The Next Step Sigil by Laura Tempest Zakroff is licensed under a Creative Commons Attribution-NonCommercial-ShareAlike 4.0 International License. To find out more about this method of crafting sigils, checking out Sigil Witchery.
*There are a lot of opinions about why PCon is no longer – and there certainly isn't one reason. I'm not here to debate that, but rather focus on the question: how do we all do better moving forward, in all of our own pockets of our communities?