Hello Terry,
I've been married 31 years and feel sad about the fact that my husband and I are no longer as close as we used to be. We live in the same house but don't eat meals together or go out in public as a couple. This started when our youngest child left for college two years ago. We used to eat meals with her and occasionally watch TV shows together but that stopped gradually.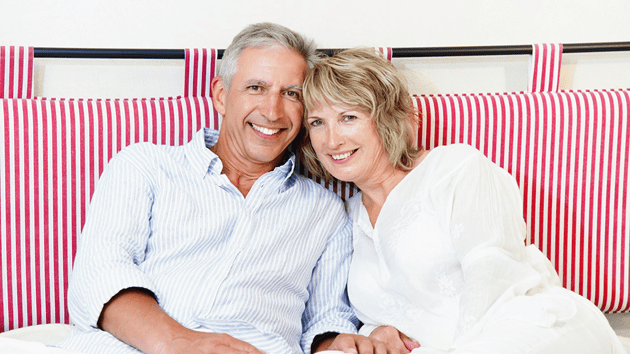 My husband says he still loves me but he rarely hugs or kisses me and our sex life is pretty nonexistent. I still love Ted even though I feel disconnected from him and so I don't want to get a divorce. I still find him attractive but don't know why he doesn't initiate sex like he used to. I guess I could try to do so, but I'm not as self-confident since I've put on five to ten pounds after I turned 50 a few years ago.
Please give me some ideas about how to get back on track with my husband.
Sincerely,
Karen
Dear Karen,
Your experience is not uncommon and it's especially true of long term partners. I recommend that you talk to Ted about establishing some rituals of connection such as having at least four or five meals togethers a week and try to have stress reducing conversations about mutual interests, hobbies, the news, or your dreams for the future. I would try this for a few weeks and see if you feel connected. If your husband is unwilling or you don't see a change, I recommend couples counseling as a way to help you find the intimacy that you're seeking.
In terms of sexual intimacy, you might try putting on music and eating a light meal, and then ask Ted if he'd like to cuddle on the couch as a prelude to sex. Try stroking his hair and/or giving him a passionate kiss; asking him if he'd like a back rub might also help him relax. If you increase your level of affection and spending time together, this often ignites passion.
In a recent article for The Good Men Project, Dr. Patrick Williams offers practical help to those of us coping with the constant challenges of being present and finding intimacy with our better halves. In "6 Ways To Get Intimate Without Getting Naked," Dr. Williams breaks down the common causes of disconnection in a marriage, giving couples hope and acknowledging that relationships aren't easy. Williams writes that "to enjoy being together 'forever,' we must learn how to be emotionally naked with each other in safe ways, and to do so before the layers of defensive armor between us grow thick and impenetrable."
Designed to creating "lasting intimacy" in the face of everything the world throws at us, Dr. Williams prescribes 6 grounded, relatable ways to keep couples close. Among the solves to intimacy problems, Williams urges partners to remain curious about each other, to love themselves as well as their spouse, and to "speak and share with loving intentions." And perhaps hardest of all, Williams advocates for an especially difficult — and equally rewarding — strategy.
In his "4th way," Williams asks couples to "forgive often, and mean it… To foster healthy self-love and love of another, we may need to forgive ourselves, just as healthy love of other requires us letting go of resentments, old angers, and unresolved wounds." And while Dr. Williams doesn't shy away from the fact that "forgiveness is difficult to give," he empowers us with the insight that it "can change the course of a life and your relationship."
Truth be told, the task of achieving intimacy with a spouse is a life long journey and requires persistence and a willingness to give up a dream of a perfect union or soul mate. Over many years of living together, levels of intimacy will wax wane depending on how busy you are, whether you have children (and their age), in addition to the stressors of illness, job loss or change, and the death(s) of family members. However, I recommend that you keep the long range view of marriage in mind and to try to find time to connect emotionally as often as possible. Even eaten a simple meal together (without the TV or phones on), and sharing your thoughts and feelings can promote intimacy.
Twitter, Facebook, and, movingpastdivorce.com. Terry's award winning book Daughters of Divorce: Overcome the Legacy of Your Parents' Breakup and Enjoy a Happy, Long-Lasting Relationship is available on her website. Her new book The Remarriage Manual: How to Make Everything Work Better the Second Time Around was published by Sounds True on February 18, 2020.
I'd love to hear from you and answer your questions about relationships, divorce, marriage, and remarriage. Please ask a question here. Thanks! Terry