I have been waiting for a long time for the release of Mary DeTurris Poust's latest book, Cravings: A Catholic Wrestles with Food, Self-Image and God, and here it finally is: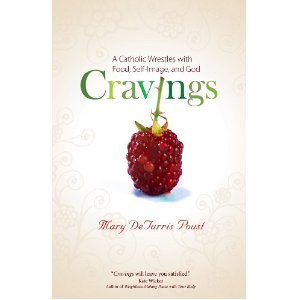 Before I had read a word about the book a glimpse of the cover spelled out a central aspect of its message: we see a luscious berry, so overripe it's almost bursting; you want to just grab it and indulge in it, but note the thorns that warn against mindless excess. It brilliantly conveys the essential message of the book, which is, in part, that even what is good and beautiful requires our attention and care if goodness and beauty are to be honored rather than debased, either within ourselves or exteriorly.
That's getting ahead of myself, but let me just say that while this is great book for any time of the year, it is especially useful right now, when we all of us are, like Lisa Hendey and Leah Libresco, taking stock and facing up to those habits and behaviors we really need to seriously address in our lives.
Certainly, this is true of me. I have had the pleasure of meeting and speaking with Mary DeTurris Poust and I know her to be a thoughtful and deep person and, since I certainly have my issues with food and behavior, I mean to take the stories she shares here — insights from people who have hoed long rows and have a lot to teach others, plus her own stories, meditations and practical suggestions — pretty seriously.
The Patheos Book Club is looking at Cravings starting this week, and you can read Chapter One here to get an excellent sense of how broadly the book may be applied. We chat about just that — among other things — in my interview with Mary:
Early in the book you quote Merci Miglino, who shares a keen insight on how our habits and patterns are like the worn carpets in our rooms; we keep treading the same paths over and over, without realizing it. This idea, like so many in the book, seems applicable to many issues people wrestle with — eating disorders, alcohol and substance abuse; bad relationships. Can you talk about some of the ways the book helps a reader to break old patterns and begin new ones?

It's true. This book is focused on food, but it can be applied to so many things that people use to fill a deeper void in their lives, which is often at the heart of our "issues." It can be hard to break out of the habits that have become our well-worn path. Even after we think we've got a handle on something – after we've lost 20 pounds or given up alcohol or quit gambling – we can easily slip right back onto the old path that feels so comfortable and comforting.

Again, a lot of this comes down to creating awareness – not only of the food we're putting into our mouths but of the thoughts we're allowing to run through our mind, of the words we say and the things we do that make us turn back to that destructive or at least not-constructive behavior. I want to help people find ways to fill in the ruts of that well-worn path with new thinking, new behaviors, new relationships that will make the new path so attractive and so peaceful and so satisfying that there's no longer an urge or need to resort to old behaviors. That has to start with God, with prayer, meditation, and mindfulness. Through those practices we begin to peel back the layers and discover what it is that makes us run for a pint of ice cream in an effort to hide from our true self or, conversely, skip meal after meal in hopes of becoming someone different, someone else. Throughout the book, I share stories – my own and those of others – to give readers a glimpse into the ways they can break their habits. I also provide concrete practices and exercises for making changings right now.
Read the rest here. The best part of all that, of course, is that Mary's suggestions are not handed down from a lofty place; she's developed them over years of dealing with issues of self-image and self-worth. Because we all do such numbers on ourselves, don't we? I see old pictures of me taken when I thought I was fat, and think, "wow, I was so cute and thin…"
It's not an uncommon experience. Nor is the way we beat ourselves up for not knowing who were were then — because we'd have "loved" ourselves, back then, had we known it — while still hating ourselves, now.
Well, Happy New Year. If (like me) you're craving a new you for 2013, and are not sure where to begin, chances are this book is where we will need to start
Also check out Mary on TV! as she hosts three episodes of Guided by Grace. A couple-or-four-Catholic women talking intelligently and sanely about church, life, family and more. Call it an antidote to The View. :-)