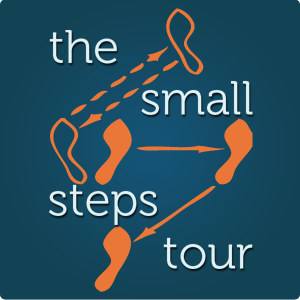 Hey there! This is the final stop in the Small Steps Blog Tour, hosted at CatholicMom.com to celebrate the release of the latest CatholicMom.com book, Small Steps for Catholic Moms: Your Daily Call to Think, Pray, and Act, by Danielle Bean and Elizabeth Foss.
Think:
"Do not be disturbed by the clamor of the world that passes like a shadow."

Pray:
Infant Lord, the world becomes noisier and noisier as we approach your birthday. Help me to remember that infants are best appreciated in the quiet.

Act:
Reserve a half hour of quiet for yourself today. Fix a cup of something warm and curl up with the Bible or an Advent book. Read, or don't—the important thing is the quiet. Listen. Jesus is speaking
This is an excerpt from December, which has a theme of "Peace."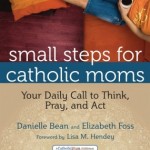 When I was mothering little ones, I used to wish for the sort of resources available to us, today through the growing number of fine Catholic women who are dedicated to reaching out to mothers and sharing the wisdom of their own experiences as parents intent on raising faith-literate children. This would have been one of those quick-read-daily books I would certainly have turned to!
Today is the last day to enter the "Five Minutes Alone" contest, so be sure you get over and do that for a chance to win a complete set of signed copies of all the CatholicMom.com books!