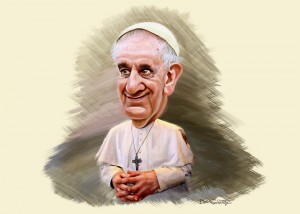 I was not planning to write about the visit of the Bishop of Rome, whom I unaffectionately refer to as Pope Fluffy.
But that was before I read about his meeting with Kim Davis.
Yesterday's edition of the Times reported that Fluffy was asked what he thought about government employees who refuse to do their jobs:
Asked about government employees who refused to discharge their duties as an act of religious conscience, including refusing to grant marriage licenses to gay couples, Francis did not offer specifics but described conscientious objection as "a human right." It was unclear whether he was aware of the recent controversy in which a county clerk in Kentucky, Kim Davis, refused to grant marriage licenses to gay couples, citing her religious beliefs.
It's not unclear any more. And I hope it's also not unclear that this man is no liberal.
It's wonderful that he acknowledges the effects of anthropogenic climate change. It's laudable that he advocates for social justice for the poor. But it's disgusting that he would characterize Kim Davis as exercising some kind of human right to conscientious objection when it is she who denies others their basic human right to equal treatment and protection from discrimination.
When Fluffy was stateside the American Humanist Association released this meme on Facebook: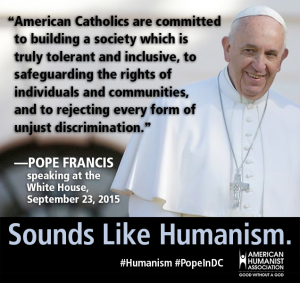 "American Catholics are committed to building a society which is truly tolerant and inclusive, to safeguarding the rights of individuals and communities, and to rejecting every form of unjust discrimination." – POPE FRANCIS speaking at the White House, September 23, 2015.

Sounds Like Humanism.

– American Humanist Association
Sorry, AHA, but this was not helpful.
I'm an active member in good standing (just renewed!) of the AHA and president of the local chapter, Humanists of Southeast Michigan. So I say this with love: This meme is an unfortunate example how some people confuse a coincidence of shared values by the religious as Humanism.
We Humanists cannot allow ourselves this kind of wishful thinking. Francis is no Humanist. No one who relies on supernaturally-endorsed dogma, doctrines, superstition or tradition can be classified as a Humanist.
Moreover, I'm not even convinced that this does "sound like Humanism."
I'm pretty sure that Fluffy carefully chose the phrase "unjust discrimination" just to make sure that we all understand that there is such a thing as "just discrimination."
That's surely not Humanism.
We Humanists should absolutely work with religious people to achieve our joint goals. But let's not fool ourselves. These alliances are pragmatic. Nothing more.