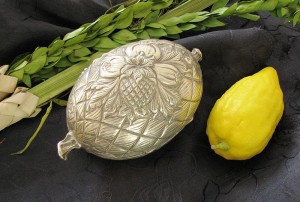 It's Sukkot…the "Feast of Tabernacles"!
Being a busy Secular Humanistic rabbi at the holiday season, I have not had much time to blog recently. But with the "high" holidays behind us we're into that second round of holidays, Sukkot and Simchat Torah.
Over the next few days I'll share a few readings that I wrote for the Sukkot holiday program at my congregation. Chag Sameach…Happy holiday!
Why We Celebrate
Sukkot is one of the richest and most splendid of all Jewish holidays. Throughout history, the holiday has accrued many symbols and traditions.
Its origins lie in the dawn of Israelite civilization. The Sukkah booth may have originated as a temporary harvest dwelling, permitting farmers to remain close to their ripening crops. Many years later, the Torah's authors claimed that these booths housed the Israelites as they journeyed through the wilderness to freedom.
According to a legend recorded in the Hebrew Bible, King Solomon dedicated the First Temple on Sukkot. By the time of the Second Temple, a tradition arose to sacrifice seventy bullocks on the holiday. This was a gesture of universalism. The bullocks were intended to honor the "Seventy Nations of the Earth" as conceived by Jewish mythology.
The Lulav and Etrog are the second great symbol of the holiday. They are actually comprised of "Four Species," in the language of the Rabbis. The Lulav is a palm frond and it is accompanied by three sprigs of myrtles and two of willows. The Etrog is a citron, native to the Land of Israel, and described in the Torah as "the fruit of the goodly tree." They are taken together and waved to symbolize gratitude for the harvest. Traditional Jews parade them in synagogue processions throughout the holiday.
Sukkot is also known as Chag He-Asif – The Festival of the Harvest. The name recalls its origins. The Rabbis of old simply called it THE holiday. Sukkot is the only festival mentioned in the Torah that is accompanied by a call to rejoice.