Please note: This post contains affiliate links. You can read my full affiliate disclosure here.
Is anyone else exhausted? Between Halloween, All Saint's Day, my 38th birthday (November 3) and Election Day, I'm beat!
Now Thanksgiving is just around the corner, which means that Advent is quickly approaching. I know it's hard for busy working moms to come up with easy but meaningful Advent activities to do with their kids, so I've compiled a few ideas I've found while tooling around the internet. I hope they're helpful!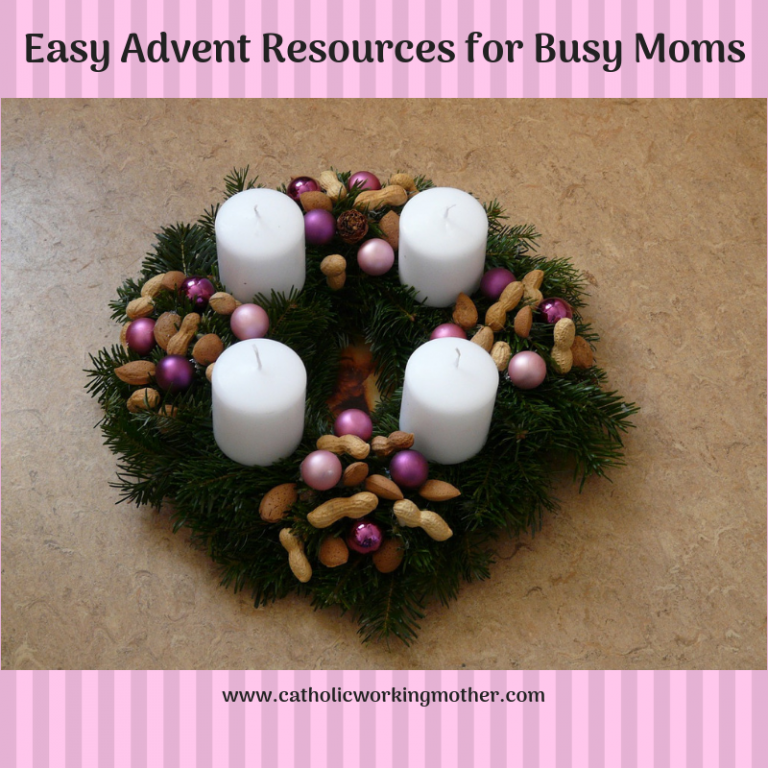 Reminder: if you haven't yet ordered your Advent candles for your Advent wreath, you might want to do that ASAP so you're prepared well in advance of the first Sunday of Advent (December 2 this year)! You can find votive candles here and taper candles here. If you do end up procrastinating too long, though, white candles with purple and pink ribbons tied around them work just as well (or, in a pinch, white candles colored with purple and pink marker).
I got crafty a few years ago and bought this candleholder as well as pink and purple paint from Hobby Lobby that would work on glass (I believe it was this brand). I painted three of the glass holders purple, one pink, and left the center one clear. This way, I can buy cheap white votive candles from the dollar store each year instead of trying to remember to order colored candles. All of my Advent wreaths have used votive candles, not tapers, and I've found it's hard to find votive Advent candles locally, especially if you don't have a nearby Catholic bookstore.
However, if anyone has the yen to buy me a new Advent wreath that uses tapers, I've always loved this one.
If you need a copy of prayers to say each Sunday when you light the Advent candles, there's a great printable PDF here.
At any rate, here's a list of easy yet meaningful Advent activities for Catholic families:
Do you have any suggestions for easy Advent activities? Share in the comments!