… Lisa Hendey, founder and editor of CatholicMom.com, has written a fantastic resource for busy moms looking to enrich their prayer lives. Her book, A Book of Saints for Catholic Moms available from Ave Maria Press, highlights 52 saints and takes the reader on a weekly journey getting to know each one intimately through prayer, scripture and Mrs. Hendey's personal reflections.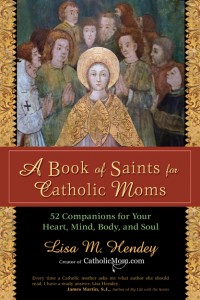 I adore the lesser known saints featured in her writings. My copy fell open to St. Zita of Lucca, a simple servant to a wealthy Italian family in the thirteenth century. Here the author shows the reader that they can live holy lives by imitating the actions of these saints and obtain a simple piety even in doing the most mundane and menial of chores.
Each chapter of 'A Book of Saints' is broken down with a general overview of the life of a particular saint followed by the lessons mothers can obtain from their example, traditions associated with that saint, a week of scripture, a saint inspired activity and a family prayer. It's a wonderful and uplifting book that will help moms reach simple spiritual goals in between errand running and house cleaning. Writing as a wife and mother, Lisa Hendey knows what encourages us and her book absoultely delivers. I highly recommend making this book an addition to your personal library and gifting a copy to that special Catholic mom in your own life.