… Single life can be frustrating, especially during this time of year with the holidays fast approaching. Going solo to parties and family gatherings calls attention to this fact. That was why I timed my give-away of Dorothy Cumming's book, The Closet's All Mine, to coincide with the looming holiday season.
Mrs. Cumming's, better known as the Seraphic Single or Auntie Seraphic, has been blogging and writing about her life as a single Catholic woman for quite a few years. She is now married but her wisdom still serves to aide the single woman looking to find contentment in her state of life.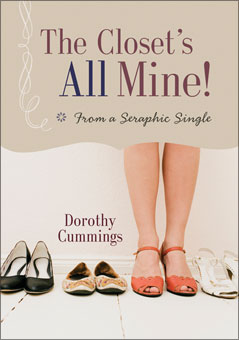 The Closet's All Mine reads as an intimate journal with anecdotes and advice for the single reader. It permeates with common-sense. Common-sense is usually the first thing to fly out of a woman's head when gripped in moments of panic that they will never marry or when in the beginnings of a new relationship and hormones cut off blood supply to the brain. Which ever situation you get caught up in, The Closet's All Mine is filled with sage advice on how to cope. Mrs. Cummings offers herself up as an example of what to do, or in some cases what not to do, to ease your panic stricken mind.
Her book will not tell you how to find a man. Her book also won't tell you how to keep a man. She won't tell where you need to be looking, doing, or wearing to snare a husband. In fact, she is brutally honest in stating that many of us will never be married.
The Closet's All Mine
is not a dating book. It's simply a book that plainly speaks the reality of being a single woman – the good and the bad. Her book is about finding peace with being single and accepting where God has put you in this particular moment of your life. Whether you are in your early twenties and trying to figure out men or in your late thirties or forties and are beginning to think you will never be married, Dorothy writes with a gentle humor that is strikingly earnest. These are things your wish your friends would say to you but fear doing so unless they risk your friendship.
The Closet's All Mine is a quick read with short chapters, each filled with a lesson or bit of wisdom that you can find yourself returning to whenever you begin feeling sorry for yourself that you are going to yet another Christmas party stag. It's the  perfect pick-me-up and I can whole heartily recommend having a copy for yourself or for your favorite single gal pal. Purchase here.