… I'll admit it; I like facebook. Probably a bit too much. I contend it's not all bad. People request prayers, post nun pictures, and share inspiring quotes (yes, even trite cliches). You just have to take it for what it is and remember to stay out of comment battles and no one gets hurt.
So anyway, Elizabeth Scalia was sharing quotes about the Church and posted this;
One of the good things about a Catholic church is that it isn't respectable; you can find anyone in it, from duchesses to whores, from tramps to kings. – Rumer Godden, In This House of Brede
Gregory Popcak replied with another quote, one of my favorites regarding the universal nature of the Church;
"Here comes everybody." – James Joyce
Which reminded me of the first time I started attending mass as a non-Catholic in Nashville, TN. Some amazing things were experienced in that church, one being the welcomed attitude towards the city's homeless. I had never in my life walked into a church with such a bizarre mix of congregants. The only other experience that comes close was attending mass in Rome where penitents crawled on their knees from end of the church to the next while a group of pilgrims prayed the rosary in Spanish over a man in the wheelchair at the back of the church.
In my old Pentecostal church in Birmingham, Al, someone homeless and scruffy would have been chased out with a broom as a loitering vagrant. In the Catholic Church no one batted an eye or asked them to leave.
Which brings me to gentrified Charlotte, NC. A Southern city full of charm with it's fair share of the homeless, who can often be found pan-handling in church parking lots. I never even gave their presence a pause. Some one needs money. I have some extra money in my wallet. What's there to think about? You give.
Imagine my surprise one week when I saw in the bulletin an announcement discouraging us from giving them money. We were instead to direct them to the parish office who will then direct them to the Society of St. Vincent DePaul. When did acts of charity become so bureaucratic? Never mind that on a typical Sunday the parish offices are closed. Whatever their immediate needs are would just have to wait.
Um, no. Look, I appreciate the sentiment of the local Catholic community. I completely understand that some people prefer to give to organizations directly then to the homeless at the corner because they fear that money will be used on drugs and booze.
But here's the God's honest thing about that; sometimes giving a few dollars to the beggar in the church parking lot is the only chance I'll get all week to do something decent for another human being. Don't take that away from me and don't condescend the homeless by making them jump through hoops to get a handout.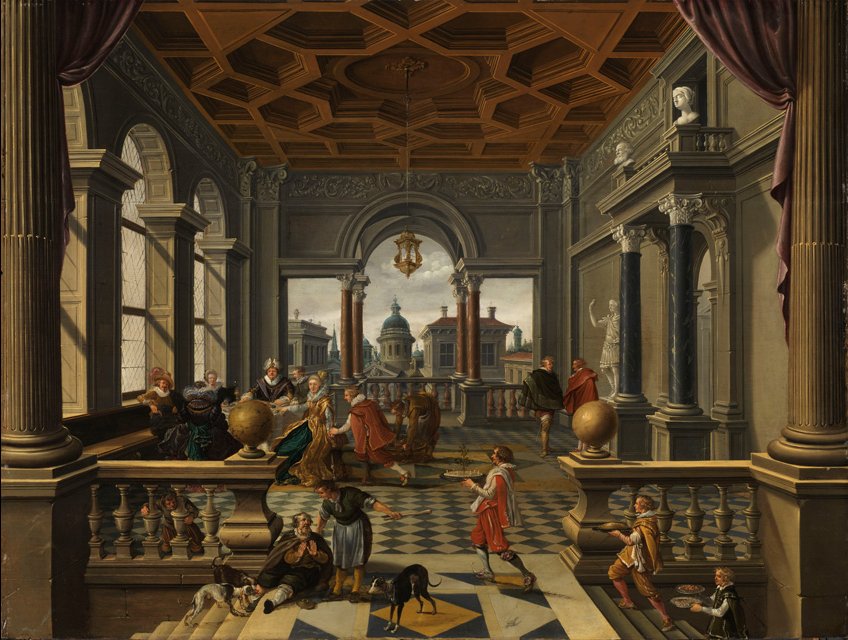 Bartholomeus van Bassen, The parable of the rich man and Lazarus
What they do with the money you give isn't really your business anyway. In the end, you'll be judged by your actions alone, whether you chose to help or not. And as terrible as I am, I need for God to see me slipping that homeless guy a $5.