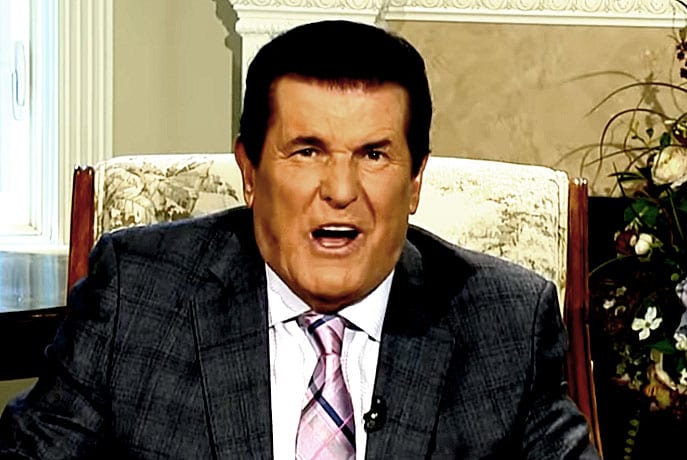 TELEVANGELIST Peter Popoff – once exposed by religious fraud-buster James Randi as a complete charlatan – claims in a series of videos that his 'miracle water' has 'supernatural' properties that can free people of anything from debt to cancer.
But when one of his videos was screened by satellite TV channel BEN TV  – "Europe 1st Ethnic Oriented Television Channel" –  the UK's Office of Communications (Ofcom), sprang into action and imposed a £25,000 fine on Greener Technology Limited, which owns the channel.
The video below, or one similar, was aired by BEN TV on January 28, 2018.
In an October 15 statement, Ofcom, said that Greener Technology Limited was found to have  broken three of Ofcom's broadcasting rules:
On 28 January 2018, BEN TV broadcast Peter Popoff Ministries, a programme featuring footage from televangelist Peter Popoff's religious services. The programme contained frequent invitations for viewers to order 'free miracle spring water' and a number of testimonies from individuals who claimed, or strongly implied, using the water had cured serious illnesses, including cancer.

As set out in Ofcom's Decision published on 3 December 2018 in issue 367 of the Broadcast and On Demand Bulletin, Ofcom considered that the claims made in the programme had the potential to cause harm to members of the audience who may have been led to believe that the 'miracle spring water' alone was sufficient to cure their health conditions and that it was unnecessary to rely on, or continue receiving, conventional medical treatment.

Ofcom concluded that Greener Technology Limited did not take steps to provide adequate protection for such viewers and there was a material risk that susceptible members of the audience may have been improperly exploited by the programme.

Ofcom also concluded that the programme promoted a product – the 'miracle spring water' in breach of the Broadcasting Code.

Ofcom has imposed a sanction on the Licensee of a financial penalty of £25,000. Ofcom has also directed the Licensee to not repeat the programme and to broadcast a statement of Ofcom's findings on dates and in a form to be determined by Ofcom.
According to this report, BEN TV's programming is designed to:
Empower, transform and challenge the conventional perception of Africa, Caribbean and African-descendants in the Diaspora.
The wealth-attracting, disease-curing water has been marketed through Popoff's website and early morning and late night broadcasts on popular Cable TV channels, such as Black Entertainment Television in the US, despite a wealth of evidence his miracle ministry "reeks of chicanery."
Popoff's videos say the water is sent "absolutely free" to anyone who wants it, but on his website a "seed faith donation" of $17.99 is suggested.
Popoff is also senior pastor for an outfit called People United for Christ. This is what he has on his Linkedin profile: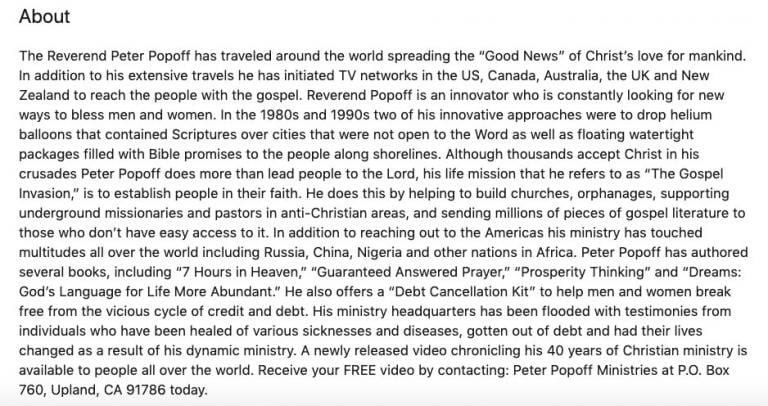 The Better Business Bureau, which gave Popoff's People United for Christ an F rating in the past, does not have a current rating for the huckster's organisation.
The BBB says its website:
This charitable organisation either has not responded to written BBB requests for information or has declined to be evaluated in relation to BBB Standards for Charity Accountability. Charity participation in BBB review is voluntary. However, without the requested information, it is not possible to determine whether this charity adheres to all of the BBB Standards for Charity Accountability.

The BBB encourages charities to disclose accountability information beyond that typically included in financial statements and government filings, in order to demonstrate transparency and strengthen public trust in the charitable sector.