THE increasingly irreligious Spanish have a sharply-honed sense of fun – especially in regard to messed up 'sacred' objects. Best example was the laughter that engulfed the country when the 'Monkey Jesus' story broke in 2012.
Another wave of mirth hit Spain this week when it was reported that a painting of the Virgin Mary suffered a similar fate at the hands of a furniture restorer who was paid €1,200 by an art collector to clean his copy of Bartolomé Esteban Murillo's 1687 work called The Immaculate Conception of Los Venerable.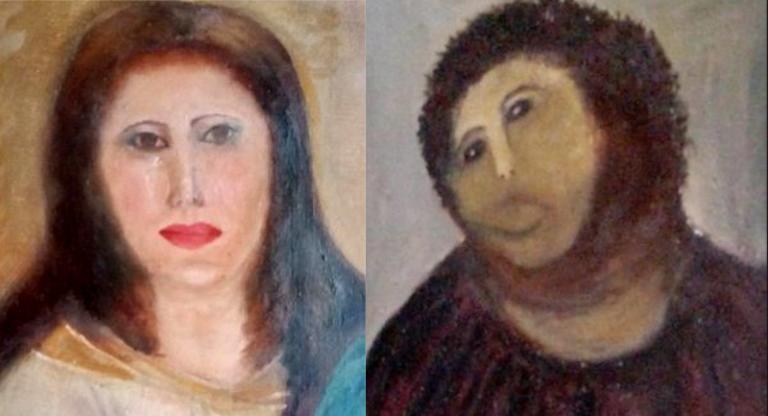 The restoration turned out an utter disaster, and the report is now going viral on social media, with people posting juxtaposed images of the botched Ecce Homo, a fresco restored by octogenarian Cecilia Gimenez, and that of the Virgin.
Ecce Homo had graced a wall of the Sanctuary of Mercy Church near Zaragoza for more than 100 years.
The Indian Express quickly caught onto the story and reported that "a laughing riot" had broken out online – and that the collector has now contacted a professional restorer to try to rescue the disfigured painting.
According to ArtNet, María Borja, a Vice-President of the Valencia chapter of the Professional Association of Conservative Restorers of Spain, said that while a handful of these incidents come to wide attention because of social media:
There are a multitude of situations where the works are intervened by people without training … possibly causing irreversible change.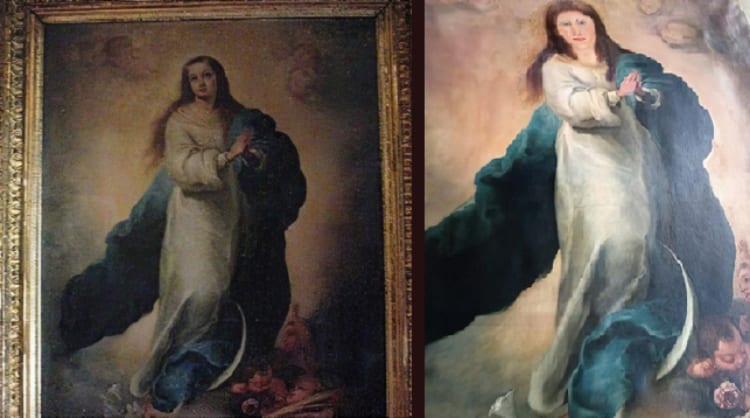 Many also highlighted the botched restoration in 2018 of a 500-year-old statue of Saint George and the dragon in northern Spain that left the warrior saint "resembling Tintin or a Playmobil figure."
The statue stood at the Church of St Michael in Estella, Navarre, and it cost the archdiocese of Pamplona and arm and leg to have it fixed – over €30,000. Had the restoration been done professionally, it would have cost between €10,000 and €12,000. The archdiocese was also fined €6,000 for allowing it to be buggered up by a local artist.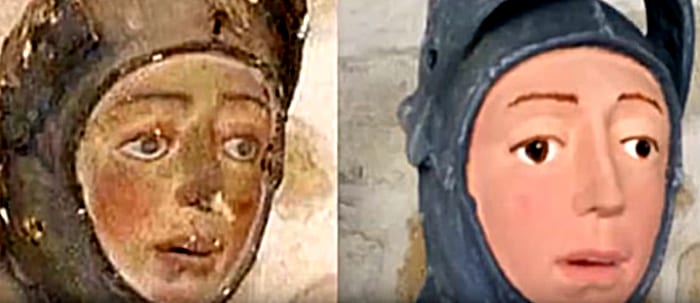 Fernando Carrera, a professor at the Galician School for the Conservation and Restoration of Cultural Heritage, said that unqualified people should not be referred to as restorers and called them "bodgers" who botch and destroy things.
Can you imagine just anyone being allowed to operate on other people? Or someone being allowed to sell medicine without a pharmacist's licence? Or someone who's not an architect being allowed to put up a building?
Hat tip: BarrieJohn
• If you wish to report any typos/incorrect info in this piece, please email me at barry@freethinker.co.uk
If you'd like to buy me a cup of coffee – and boy, do I get through a LOT of coffee keeping this site active – please click the link below.
I'd love a cup of coffee