THROUGH the ages the Bible has been used as a justification for all sorts of atrocities and acts of extreme cruelty – but cockfighting?
Well, yeah, according to Rev Lloyd Edward Plumbar Jr, founder of Holy Fight Ministries, who recently launched a religious discrimination lawsuit against, among others, the Attorney General of Louisiana, Jeff Landry and Sheriff of Livingston Parish, Jason Ard by Rev Lloyd Plumbar Jr, founder of Holy Fight Ministries.
The suit alleges that:
Reverend Plumbar, Holy Fight Ministries and its congregation hold the sincere religious belief that cockfighting represents that while they strive for CHRIST, they have a necessary symbolic physical manifestation, an epiphany through the fighting cock, a religious mandate of the struggle between good and evil, a struggle for life or death for the Salvation of the soul, and thus cockfighting is an integral and essential part of their religious faith.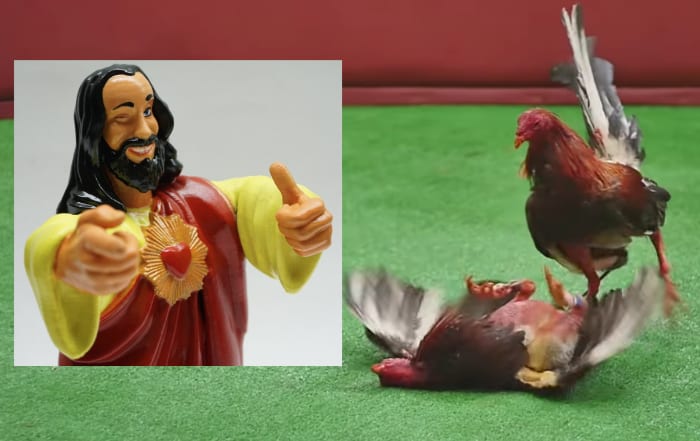 It complains that:
On April 29, 2020, Holy Fight Ministries was holding its weekly Sunday religious service. Reverend Plumbar was driving towards Holy Fight Ministries to lead said service when he was arrested by deputies from the Livingston Parish Sheriff's Office on several counts of the misdemeanor criminal charge of cockfighting, in violation of La. R. S. 14:102.23.16.

Reverend Plumbar's bond was initially $375,000.00, which is higher than the bond some persons charged with the felonies of Attempted Murder and/or Pornography with a Juvenile have been given in Livingston Parish.
Little is known about the church other than it is a non-profit launched in Baton Rouge in 2016 and that Lloyd Edward Plumbar is its sole Director. We also know that Plumbar launched a petition in 2011 calling for the legalisation of cockfighting. The petition ends by saying:
Legalizing cockfighting would bring in billions of much needed tax dollors!! (sic). It would help out a number of feed mills and gamefowl supply stores. Also the hotel and resturant (sic) industry's (sic) would skyrocket.

Overall there is everything to gain and nothing to lose except needed money!! As Abraham lincoln (sic) once said: 'As long as the Almighty has permitted intelligent men, created in his likeness to fight in cpublic and kill each other while the world looks on approvingly, it's not for me to deprive the chickens of the same privilege' Abraham Lincoln Thank You.
Cockfighting is illegal in all 50 US states and the District of Columbia. The last state to implement a state law banning cockfighting was Louisiana; the Louisiana State Legislature voted to approve a ban in June 2007, which went into effect in August 2008.
The sheer cruelty involved in the "sport" is detailed here by the Humane Society of the United States.
National Secular Society Chief Executive Stephen Evans said:
I've seen it all now. Religion manifests itself in many weird and wonderful, and not so wonderful, ways. This is a reminder that there will always need to be limits on it where harm is caused.
Frankly, I don't give a tinker's damn about the harm inflicted by rival groups of Christians to one another, but when it comes to animal cruelty – especially when it's faith-based – my fury knows no limits!
Hat tip: Chris Sloggett
• If you wish to report any typos/incorrect info in this piece, please email me at barry@freethinker.co.uk
If you'd like to buy me a cup of coffee – and boy, do I get through a LOT of coffee keeping this site active – please click the link below.
I'd love a cup of coffee