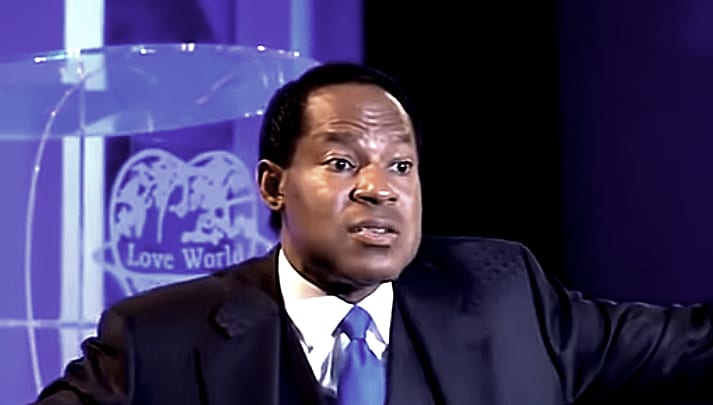 IN MAY this year the regulatory body Ofcom sanctioned LoveWorld UK, headed by Nigerian pastor Chris Oyakhilome, above, for peddling conspiracy theories, notably that COVID-19 was being spread by 5G networks.
Shortly after, on May 22, the Lagos-based National Daily Newspaper blasted Ofcom's action. Reporter Ifeanyi Izeze described the move as "astounding" and suggested that evangelical outfits such as LoveWorld should not be be held to the same broadcasting standards as the "secular"media.
This is part of the writer's defence of fake news:
Ofcom either by omission or deliberate commission ignored the fact that the overall context in the news report was that of a religious news broadcast aimed at Christian Evangelical Believers, and seeking to interpret the present turmoil caused by Covid-19 in light of the Christian Holy Scriptures – The Bible.

LoveWorld programming has never for one moment purported to be a secular current affairs documentary as might be seen on the BBC, Sky and the rest … The programme's news coverage manifests its Christian orientation and background and LoveWorld Television Network is a Christian broadcast station and communicates its views based on the foresight of Scriptures.

The news was presented from a balanced Evangelical Christian viewpoint and that it openly requested for everyone else to carry out their independent fact findings. This obviously was overlooked by Ofcom before slamming the sanction against the network.

The Commission failed to acknowledge that Pastor Chris was addressing a global audience; yes, it may have been aired in the UK but that did not make the audience UK-specific. LoveW orld is a cable television network that beams to other countries of the world.
Well, LoveWorld is back in the news today (Monday). The Independent reports that network has escaped further Ofcom sanction after it was forced to correct the report that linked COVID-19 and 5G.
But the regulator said it still planned to grill the leaders of LoveWorld News on their compliance with its rules.
In one segment of a Loveworld broadcast a presenter made a spurious link between the virus and 5G and said it represented:
The largest global cover-up in history … This is not coronavirus, but cell poisoning. Remember 5G started in China. Wuhan is one of the provinces where 5G has been rolled out.
The programme aired in April, when a number of phone masts were attacked by conspiracists.
Last month Ofcom forced LoveWorld to detail on air how it was found to have broken the rules, judging the broadcaster had risked "significant harm" to its viewers. It said at the time it would consider taking further steps.
In a new decision notice OfCom said that it did not plan to take further formal action against LoveWorld. The network had promised to review all its broadcasts to avoid repetition of the 5G conspiracy, use a time-delay so live programmes could be edited and educate its staff on compliance with Ofcom's code.
However, the document revealed that LoveWorld had been forthcoming only in the second of two rounds of communication with investigators – after it retained legal representation. Initially, Ofcom said:
The licensee considered that the content on LoveWorld News did not raise any issues under the code.
Ofcom's sanctions panel came away with:
Significant concerns about LoveWorld Limited's compliance procedures in light of the first set of representations received.
It added added that executives planned to further "engage with" LoveWorld in order to assuage those fears.
Regulators summarised their position:
The panel recognised the licensee's right to hold and to broadcast views which diverge from or challenge official authorities on public health information and that may be considered controversial.

Ofcom's rules do not prohibit the broadcast of controversial or unorthodox views. However, broadcasters must ensure they provide adequate protection for their viewers from potentially harmful content and ensure that such views are properly contextualised so as to comply with the code.

In common with other services, news on religious services must also be reported with due accuracy.
This latest development is bound to infuriate Ifeanyi Izeze, who ended the National Daily Newspaper's May report by saying:
You cannot muzzle a media organisation because it is a Christian channel.

Ofcom as an agency of the UK government should do well to help the public not believe that the sanction slammed on Loveworld was not to deliberately suppress the channels contrary opinion based on its Christian faith and believe (sic).
Hat tip: Andrew
• If you wish to report any typos/incorrect info in this piece, please email me at barry@freethinker.co.uk
If you'd like to buy me a cup of coffee – and boy, do I get through a LOT of coffee keeping this site active – please click the link below.
I'd love a cup of coffee