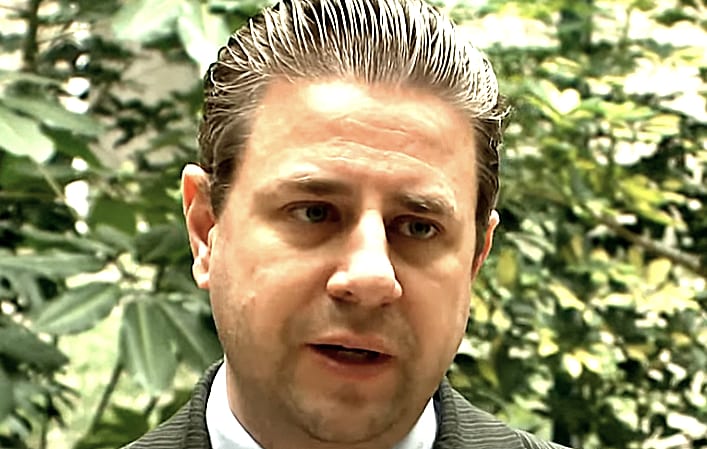 ANGER is being expressed in Hungary after Gábor Kaleta, above – who served as the country's ambassador to Peru and was a former spokesman for the Ministry of Justice – was handed a suspended sentence and fined HUF 540,000 (€1,535) this week for possessing 19,000 pornographic photos of children.
The lenient sentence was imposed on Wedneday after Kaleta's "celebrity lawyer" Csaba Mester, told a court that the former diplomat lost 30 kilos due to the stress and guilt, adding:
He has lived an exemplary life of a lawyer in which he created a diplomatic career and through this, he has served his country. He is a deeply religious man who regularly exercises his faith.
The sentence, according to this report, sparked enormous outrage among many in the country, including several politicians and public figures.
Fidesz MEP Tamás Deutsch castigated the court ruling in a Facebook post.
There's this aberrant pedophile photo collector, former ambassador named Kaleta, whose computer had more than 19,000 child pornography images on it. More than 19,000! For all this, he was sentenced by the extremely independent Hungarian court for one year, of course suspended, and has to pay a fine of HUF 540,000. One year suspended! Shameful!
The prosecutor in the case said Kaleta should only be given a one year sentence suspended for three years as he had confessed to the crime.
A former Hungarian ambassador to the US also found the ruling baffling. Réka Szemerkényi, who was appointed to Washington between 2015- 2017 by the Orbán government, shared her thoughts about the verdict on social media. The diplomat called the judgement shockingly lenient.
All this is happening in a country that proudly proclaims its strong family policy. Pedophilia is a shameful and horrific crime that must be firmly condemned and punished. Both are painfully missing.
Szemerkényi added that as a mother of four, she cannot get over the sentence.
If one can get away with a lenient punishment so easily, then Parliament should immediately initiate a review of the legal system and tighten the regulations.
The Hintalovon Child Rights Foundation wrote in a social media post that:
The judgment is not right, either from the perspective of children's rights, child protection, or criminal law.
According to the foundation, Hungarian criminal law does not take the problem of pornographic images of children seriously. In addition, there are insufficient sanctions for paedophiles.
Ironically Kaleta's lawyer is a member of the White Lily Association (Fehér Liliom Egyesület), an organization sworn to protect sexually, physically, or mentally abused children.
Kaleta was brought back to Hungary in complete secrecy in 2017, after the pornographic images of under-18 children had been found on his electronic devices.
American authorities alleged that he was part of an international paedophile ring.
Charges were brought against Kaleta in November 2019. Later, the parliamentary report of his case was sealed for ten years.
• If you wish to report any typos/incorrect info in this piece, please email me at barry@freethinker.co.uk
If you'd like to buy me a cup of coffee – and boy, do I get through a LOT of coffee keeping this site active – please click the link below.
I'd love a cup of coffee