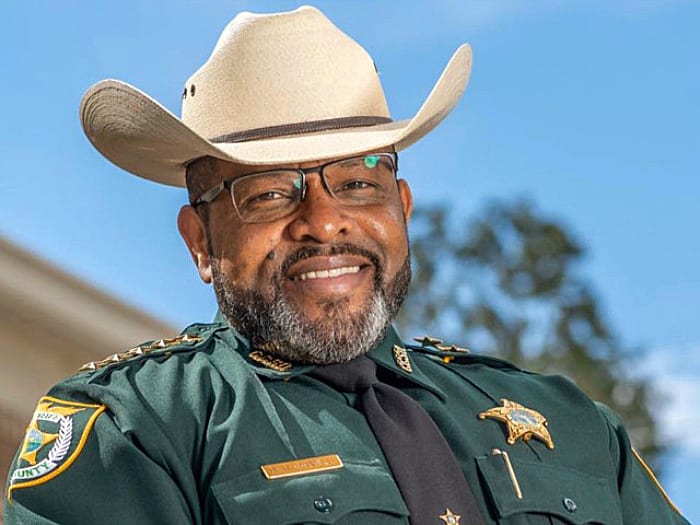 SHERIFF Darryl Daniels, above, of Clay County, Florida, is being roundly criticised for a video he released this week in which he slams the 'mainstream' media for leaving God out of conversations regarding Black Lives Matter protests – and he appears to encourage vigilantism.

What God has to do with the issue is anyone's guess, but here's what the county's first black sheriff said:
God is absent from the media's message or Black Lives Matter or any other group that's making themselves a spectacle, disrupting what we know to be our quality of life in this country.
The sheriff pointed out that law enforcement officers take an oath:
To support, protect, and defend the Constitution of the United States and the government. … And we end that with 'So help me God.'
The God garbage was bad enough, but Daniels then declared he would enlist "lawful gun owners" in the county if the demonstrators were to overwhelm the sheriff's department. He warned:
If we can't handle you I'll exercise the power and authority as the sheriff, and I'll make special deputies of every lawful gun owner in this county and I'll deputize them for this one purpose to stand in the gap between lawlessness and civility.
Rick Snedeker, of the Gadzooks blog, said:
Unsurprisingly, rival sheriff's candidates view the idea as dangerous, self-promoting and an invitation to civic chaos.
And he pointed out that former Clay County Commissioner Harold Rutledge warned that Daniels' threats of force could lead to dire consequences.
Threatening to 'make special deputies of every lawful gun owner in this county and I'll deputize them' is going to make the problem worse. Police officers with more than 1,000 hours of law enforcement training can have problems in high-stress situations. Imagine putting a badge on someone with zero training — no de-escalation training, no firearms training, no training with the law. I am not sure what he is thinking, but it is not the kind of thinking we need from our top cop.
Current Atlantic Beach Police Chief Michelle Cook said the video showed Daniels wasn't fit for leadership.
What Daniels said yesterday may sound tough and macho. But, instead, it is a call for vigilantism and another signal that he is incapable of leading the sheriff's department and keeping Clay County safe

Instead of dealing with real issues in a meaningful way, he is behaving like a reality show sheriff and calling attention to himself. To make matters worse, he pulled 18 officers off the streets to be used as props for his taxpayer-funded campaign stunt. It's no wonder morale is so low among our fine officers.
She was referring to the fact that Daniels is standing for re-election.
The black-owned magazine Essence wrote added:
Despite his rant about 'lawlessness,' as the Times-Union notes, Daniels is under investigation by the Florida Department of Law Enforcement in relation to an affair with a former colleague – who was subsequently falsely arrested – while Daniels was employed at the Jacksonville Sheriff's Office. Currently, Daniels, who has dreams of being a congressman, is up for re-election.
Snedeker concluded:
Daniels is pandering to religiously conservative voters who lean hard toward 'law and order', and, in fact, evoking the divine is irrelevant to the situation. It's probably safe to say that many Black Lives Matter protesters – the peaceful vast majority and the violent-fringe few – are good, God-fearing Christians understandably seeking justice.
• If you wish to report any typos/incorrect info in this piece, please email me at barry@freethinker.co.uk
If you'd like to buy me a cup of coffee – and boy, do I get through a LOT of coffee keeping this site active – please click the link below.
I'd love a cup of coffee