THE coronavirus made a tragic debut at the home of the Congregation of the Sisters of St Felix of Cantalice in Livonia, Michigan, on Good Friday (April 10), and by June 27, 13 of them were dead.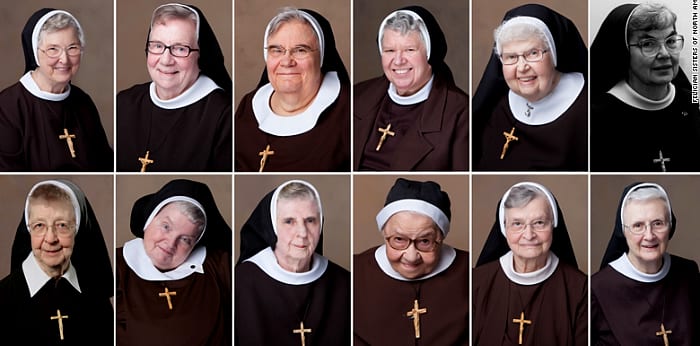 The youngest was 73, the oldest 99. Sister Mary Luiza Wawrzyniak, 99 (bottom row, 3rd from right) was the first to die.
Sister Serra, one surviving member of the Felician Sisters said:
I had this image of the Good Shepherd; you know, the image where he's carrying the sheep on his shoulders. Only he was carrying each of our sisters. And I knew then everything was going to be all right.
Well, by all accounts, things are far from all right at convent. There is still a semi-quarantine to deal with. The last person came out of a 28-day isolation on June 8, but there are still many restrictions. Sister Serra said everyone's stockpiles – toothpaste, candy – have been used up.
Sister Joyce added:
We're down to our last Hershey bars.
Sister Noel Marie said:
I look at it like an accordion that can open and close, and right now, that accordion is still really tightly closed. We're not touching each other, not hugging, not doing the things we usually do. … We miss that part of how we live. It's on a cellular level for us.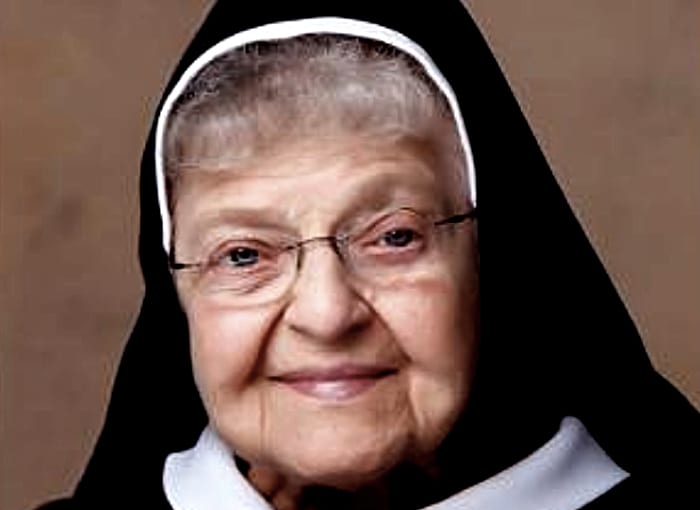 Sister Noel Marie Gabriel, Director of Clinical Health services for the Felician Sisters of North America, said:
We couldn't contain the grief and the sorrow and the emotional impact. We went through the motions of doing what we had to do, but that month was like a whole different way of life. That was our most tragic time. It was a month of tragedy and sorrow and mourning and grieving.
Survivors are discovering that the virus can cause lasting damage and recovery may not mean a return to full health.
Though sisters worldwide have died from the virus, no one is tracking how many. News reports show that, as of July 16, in addition to the 13 Felicians in Livonia, at least 19 other sisters have died in the US, including a Felician sister at the order's convent in Lodi, New Jersey; six sisters from two communities at a shared convent outside Milwaukee, Wisconsin; and three Maryknoll Sisters in Ossining, New York.
Internationally, at least 61 sisters have died, including ten Comboni Sisters in northern Italy, seven Sisters of Sainte-Croix in Montreal, seven Ursuline sisters outside Montreal, six Sisters of St Anne in Quebec, and six Little Missionary Sisters of Charity in northern Italy.
In the United States, the 13 Felicians lost in Livonia may be the worst loss of life to a community of women religious since the 1918 influenza pandemic. And in many ways, because of the restrictions in place to prevent a return of the virus, sisters' grieving has yet to begin.
All aspects of community are still either prohibited or severely limited. Sisters could not attend the funerals. There are limits on the number of people allowed in the chapel. They cannot enter each other's rooms. They had been eating one sister to a table, dining in three different shifts.
The community had 65 sisters before the pandemic. Now, the remaining sisters fear the day they can be together as a group and see how many are no longer there.
Said Sister Mary Andrew Budinski, the superior of the Livonia convent:
I get chills thinking about that. The raw grief is yet to come, I think.
The 360-acre campus was home to 800 sisters in the 1960s, but convent life today has become concentrated around the chapel and the two halls where sisters live. Much of the sprawling building, dating to 1937, is unused.
Those who survived, however, do not know why. Sister Bernadette Marie Jimkoski, who was sick all of April, said it's hard to find meaning in any of it.
When I was going through [the illness], there were times I was angry at God. Like, 'Why are you doing this?' . There were other times I wanted to die.
Sister Noel Marie added:
We all have post-traumatic stress. Not full-blown post-traumatic stress syndrome, but some indications of it. People couldn't grieve because of the urgency of getting through it. Now, we've got bad dreams, high anxiety, emotional distress.
The ordeal needs to be discussed and people need to tell their stories, she said, but it's difficult because they still cannot be together.
When it's all over the sisters plan to hold a celebration of life for the 13 they lost. They don't know what the celebration will entail or even when they'll be able to have it, but they know how important it will be. Sister Nancy said:
We'll let the Spirit lead us through that.
The obituaries of all 13 are published here.
Hat tip: Roderick Bradford
• If you'd like to buy me a cup of coffee – and boy, do I get through a LOT of coffee keeping this site active – please click the link below.
I'd love a cup of coffee