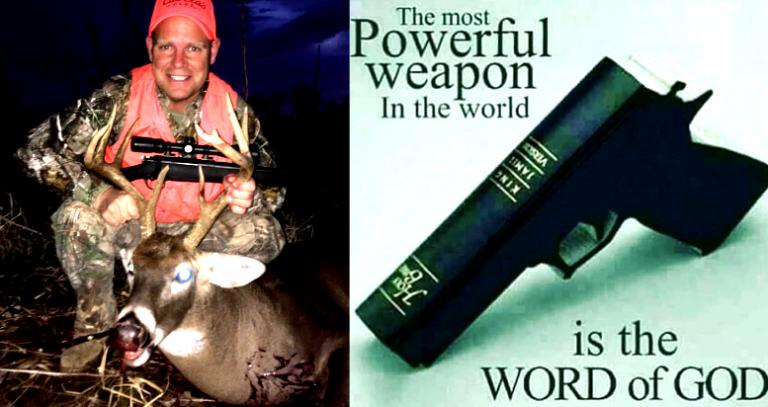 THEY'RE hot on deadly weapons and killing animals at Grace Baptist Church in Troy, near Albany, as the two pictures above – posted on the the church's Facebook page – indicate.
In fact, they are so besotted with the things that the church's pastor John Koletas – whose sermons on YouTube include "Blacks are Cursed" and "Jews are Cursed" – brought God 'n gun morons flocking to his church on Monday by posting the following on the church's exceeding ugly website: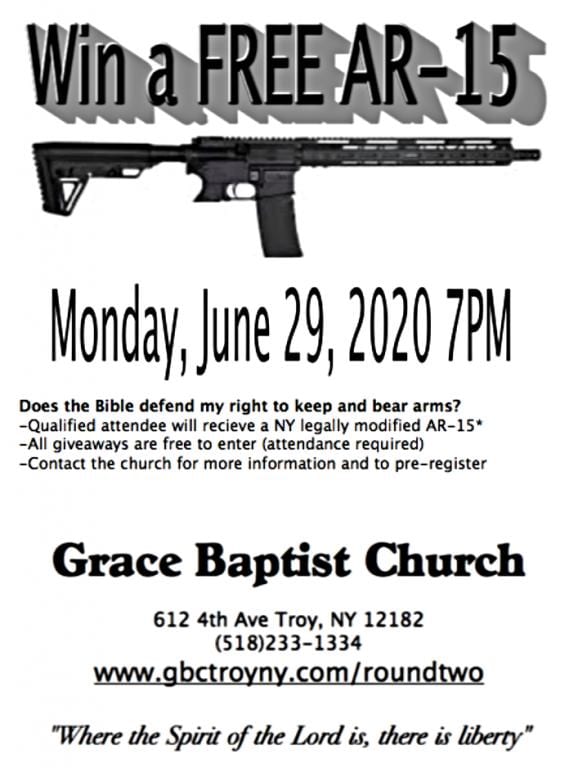 Koletas, according to this report, said that the giveaway was meant to honour gun owners and hunters who have:
Been so viciously attacked by anti-Christian socialist policies.
Not all were happy. Protester Steven Negron said:
It's extreme poor taste, the time that they decided to raffle off a rifle when we have all of the shootings going on in all of our communities.
And Facebook user Seth Maser wrote:
Celebrate Jesus by threatening to kill your neighbor! I think you read the wrong book.
Hoss-Ben Kasper, another Facebook used, added a note of sarcasm:
As the Lord says in his famous assault rifle speech: Whosoever shall smite thee on your right cheek, shoot him down!
But New York state Assemblyman John McDonald, who represents the state's 108th District, said there was nothing illegal about the giveaway. He pointed out that the church was requiring the winner to undergo a background check and to be at least 18
Whoever wins that raffle still has to go through the proper background checks and processes and training permits to be able to hold that gun.
Those interested in winning the weapon were required to email personal information to the church ahead of the event in order to be entered into the draw.
The church's website said:
Our advice is to come early. There may be a long line outside like there was the last time.
Yes, this was the second gun raffle held by the Koletas creature.
The website also cautioned that:
Anyone wearing their jeans, pants, etc., below their waistline will not be permitted in the building or the service.
Because having your butt-crack in full view will make Jesus cry, don't you know!
Hat tip: Robert Stovold
• If you wish to report any typos/incorrect info in this piece, please email me at barry@freethinker.co.uk
If you'd like to buy me a cup of coffee – and boy, do I get through a LOT of coffee keeping this site active – please click the link below.
I'd love a cup of coffee