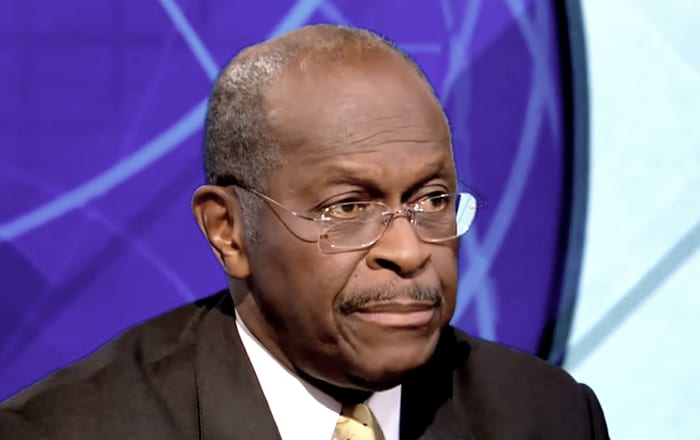 AT the beginning of this week the Christian Post ran the headline 'Herman Cain still alive with coronavirus despite rumors of death, team confirms.'
It reported that Cain, a former Republican presidential candidate and businessman as well as co-chair of – I kid you not! – Black Voices for Trump, was, through the power of prayer, "recovering." His team issued a statement on Monday saying:
Thank you for praying, everyone. Please keep doing it. He really is getting better, which means it is working.
Yesterday (Thursday) the CP reported that the devout Christian, who was diagnosed with COVID-19 a week after attending a Trump rally in Tulsa "has gone to be with the Lord."
He was filmed in "a tight crowd" at the event, not wearing a facemask.
Tweeted White House Press Secretary Kayleigh McEnany.
Herman Cain embodied the American Dream and represented the very best of the American spirit. Our hearts grieve for his loved ones, and they will remain in our prayers at this time. We will never forget his legacy of grace, patriotism, and faith.
No-one should ever gloat over a person's death, but Cain's much touted faith again raises this question: why do so many black people remain shackled to a religion that has relentless crushed them over centuries?
Fortunately not all people of colour embrace the white man's voodoo. One such group is Atlanta-based Black Nonbelievers, a support group for African Americans who are atheists or who question religion. This week the group placed two billboards encouraging people to free themselves "from religion and find true liberation."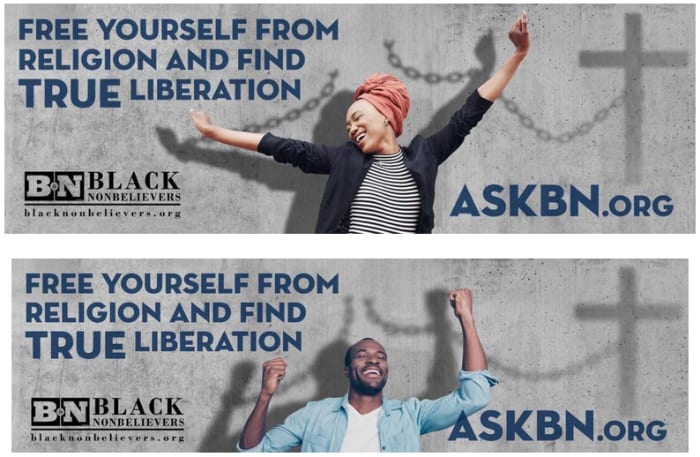 The billboards are located at I-75/85 northbound at exit 243, and near the corner of Peachtree and Peachtree Valley roads.
Said Mandisa Lateefah Thomas, founder and President of the organisation:
In this environment of Black Lives Matter and as we talk about dismantling white supremacy and institutional oppression, we contend that religion is one area we should be looking at as well. It has been a direct contributor to that oppressive system.
The billboards are co-sponsored by the Stiefel Freethought Foundation.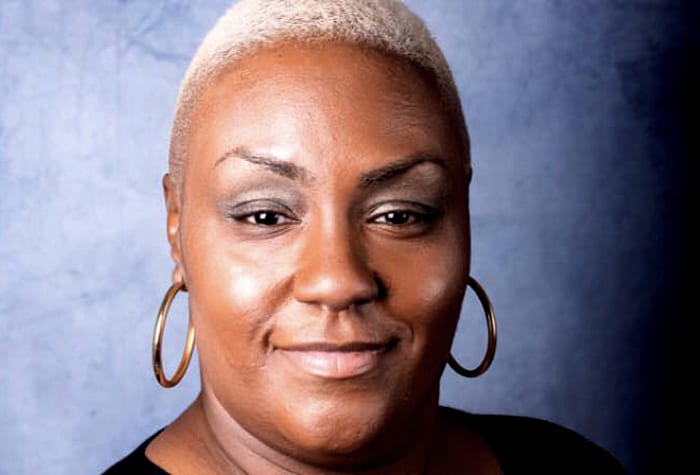 Thomas, above, grew up in a black nationalist household. She said:
In this age of information a lot of traditional notions are not holding up anymore. We are beginning to see the world is not right. We're told to just have faith or pray on it. That's just not enough for people anymore.
It's especially hard for African Americans, she said.
Religion is still so ingrained in the black identity that to openly state that one is atheist means that you're rejecting your race and culture.
According to a 2014 study by the Pew Research Center, 79 percent of African Americans self-identify as Christians as do 77 percen6 of Latinos.
The Friendly Atheist quotes Thomas as saying:
Christianity was definitely a useful tool for enslavers. It conditioned us to accept harsh treatment and oppression and even gave us a way to view that acceptance as godly behavior. We were trained to 'serve our earthly masters' as a proxy of how earnestly we would serve our 'heavenly master' – all while we waited for justice and our reward in the next life …

One major concern to many of us is how much the Black community still tightly holds on to Christianity in particular. While the general nonreligious demographic is on the rise in the US, the numbers in our communities are significantly lower in comparison.

And as anti-racism work becomes a focal point, it is clear that something as foundational as faith could be predisposing us to more oppression, and for longer periods of time.

We understand that this is a tough ask. It may be difficult to accept the complicity. But given the history of Christianity – especially as it relates to Black community – we must address it. We are ready.
• If you'd like to buy me a cup of coffee – and boy, do I get through a LOT of coffee keeping this site active – please click the link below.
I'd love a cup of coffee